The challenge:
For some time, the schools of Cusco, Peru have suffered from a culture of violence resulting in the death of at least one student, physical harm to others, self-harming (cutting) and the disruption of the learning process. 
Organizations involved:
In response, the Cusco police department assigned groups of police officers, calling themselves Police Promoters, to each school in the district to help reduce violence. It soon became clear that punishment for misbehavior not only had no lasting effect but even contributed to the problem.  So what to do?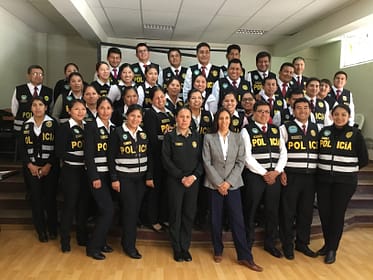 In 2018, Lilly V. Harvie, a volunteer for The Prem Rawat Foundation (TPRF), introduced the Foundation's Peace Education Program to the Cusco Police Promoters who were looking for new tools to help them with their new responsibilities in the 15 local schools where violence, dropping out, bullying and rebellion were commonplace. An agreement was signed to provide the program to all the Police Promoters working in the high schools of Cusco, with the condition that it be renewed each year. 
The process:
The program has been considered very successful and has been presented not only to the Police Promoters but to the students of 80 schools in the Province of Cusco area and 70% of the high schools in the Province of Urubamba.   
Colonel Manuel Mar Perez, Commander of the Cusco Regional Police commented, "Through the course, the Promoters recognized that the student's issues began at home." With that understanding, they changed their approach. They began to work as a team with teachers, administrators and youth leaders to address the problem and to work with the parents of troubled students. Before long, the students began to feel protected and cared for, and attitudes began to change. Parents appreciated the help with finding more effective ways of working with their children.
In one school, 36 students who were in danger of being expelled from school because of serious behavioral problems were invited to participate in the Peace Education Program to see if it would be helpful. The change in their behavior and attitude was so significant that they were all invited back and have become a positive influence in their school. 
Results:
Since the Peace Education Program was introduced in 2018, there has been no reported incident of extreme violence or uncontrollable fights, no death or suicide. The amount of bullying has dropped significantly amongst the students who had participated in Peace Education workshops.
Captain Karen Villasante, Head of the Citizen Participation, claimed that "The efforts made by this coordination of school officials, police and students began to have amazing results. We also need to be more humane with people," she said. "We need to know how to listen to and advise them, orient them about how to solve problems, to trust us and for us to reach out to them. And for that, we need to be in peace with ourselves. The Peace Education Program helps me, and this way I can help my kids, the parents, the student population." 
Commenting on the extraordinary results of the impact of the Peace Education Program, she reported that, "The rate of violence has gone down, bullying, self-harm, and that is our aim. We may not have a cape, but we feel a bit like superheroes." 
Observing the extraordinary change in the schools, Colonel Manuel Mar Perez, Commander of the Cusco Regional Police, explained that "The national police corps has learned that the approach of repression, of the use of force, represented by the national uniform has changed. I would like for this Peace Education Program to be spread throughout Peru."
Watch a video about the impact of the Peace Education Program in Cusco: