Prem Rawat
Prem Rawat has reached hundreds of millions of people in over 100 countries with his message of peace.
"Peace needs to be in everyone's life. It is not the world that needs peace; it is people. When people in the world are at peace within themselves, the world too will be at peace." — Prem Rawat
Prem Rawat, Ambassador of Peace
In a lifetime of dedicated service, Prem Rawat has reached hundreds of millions of people in over 100 countries with his message of peace. He speaks to audiences from all walks of life, from intimate gatherings of inmates at correctional facilities to forums with world leaders as well as vast public crowds—sometimes exceeding 400,000 in India.
He has been invited to speak at many important institutions, including the United Nations, the European Parliament, the Italian Senate, and at the parliament buildings of the U.K., Australia, Argentina, and New Zealand, as well as at leading universities and business conferences.
Organizations and audiences across the globe seek out Prem Rawat's message because his approach to peacemaking is simple, yet runs counter to much of today's conventional wisdom.
It is based on the idea that conflict takes place at three levels: between countries, between people, and finally within each of us as individuals. Each of these levels is interconnected. Hence, the conflict that rages within a person may lead them into conflict with another. Similarly, conflict between people of one nation is likely to result in conflict between many nations. So the first step to world peace is a simple one: we must first find peace within ourselves. The Prem Rawat Foundation aims to build a world at peace, one person at a time.
"Peace is in people, not in things. When peace illuminates every human being, there will be real peace. Who makes war? People! And who needs peace? People! Everyone has war in them and everyone has peace in them, as well as anger and forgiveness. Which ones do we practice? Practice peace, and peace will be mankind's finest achievement." — Prem Rawat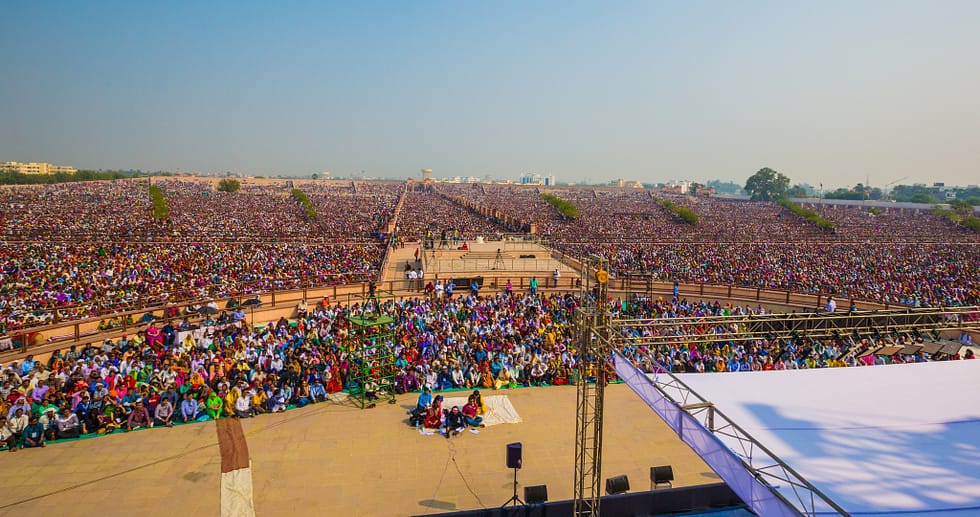 The Man Behind the Message / About Prem Rawat
Prem was born in northern India in 1957 and gave his first public talk about peace at the age of four. When he was 13, he was invited to speak in London and Los Angeles. What began as a school holiday developed into a life-long journey to bring his unique message of peace to the entire world, one person at a time.
For more than 50 years, he has continued to speak from his heart, without script or rehearsal. To fulfill his vision of inspiring people to discover and practice peace, he maintains a demanding travel schedule, flying an average of 100,000 nautical miles and attending some 90 speaking engagements across the globe every year.
Prem is also a best-selling author, collecting age-old stories and adapting them for a modern audience. These stories continue to inspire and transform the lives of millions of people. In 2018, his book When the Desert Blooms (Cuando el desierto florece) topped Penguin Random House's Spanish non-fiction list. The same book, entitled Peace is Possible in English, was published in 2019 in the U.S. and U.K. by Penguin, and has now been published in 21 countries. In 2021, HarperCollins published his latest book, Hear Yourself, making the New York Times bestseller list.
Prem embraces creativity and cutting-edge technology to further his work. He is an inventor, a photographer, a musician and a highly accomplished pilot. The majority of his more than 14,000 hours' flying time have been spent flying himself to his speaking events. Prem is married with four adult children and four grandchildren.
Recent Achievements and Recognition
In recognition of his profound impact on individuals and his contribution to the world's understanding of peace, Prem has been granted the keys to over 20 cities in Europe, Asia, and the Americas, as well as many awards (see panel on this page). He has been named an Ambassador of Peace four times: by UNIPAZ (University of Peace in Brazil) and three government organizations. In 2012, Prem was awarded the Asia Pacific Brands Association's BrandLaureate Lifetime Achievement award, reserved for statesmen and women and individuals whose actions and work have positively impacted the lives of people and the world as a whole. Other recipients of this prestigious award include the late Nelson Mandela.
Prem was asked to address the Nordic Peace Conference in Oslo in 2012. In a specially prepared video, he emphasized the very real possibility of peace in our lifetime, saying: "The majority of the people on the face of this earth want peace, and if this is true, then peace on earth is a very achievable objective. People say it's not going to happen. Well, let this time belong to those who believe it can happen, not to the ones who say it cannot."
The Prem Rawat Foundation
In 2001 Prem set up The Prem Rawat Foundation (TPRF), a non-profit 501(C)3 foundation, which addresses the fundamental human needs of food, water, and peace.
Humanitarian Efforts
In line with an innovative approach envisioned by Prem Rawat, TPRF developed its Food for People (FFP) program in 2006. FFP aims to help people in communities caught in a downward cycle of poverty and now provides more than 400,000 hot nutritious meals annually in the local cuisine to children and ailing adults, as well as hygiene education through food kitchens in India, Nepal, and Ghana. Building on the program's success, the initiative has recently expanded. Working closely with local residents and partner organizations, it now also includes the construction of new computer labs, computer training, language courses, and agricultural training. In each area, the model program has transformed local communities by improving health, enhancing school attendance and achievement, and boosting economies.
Beyond the Food for People program, TPRF has been sponsoring free annual medical clinics throughout India for 16 years, bringing modern eye care to hundreds of thousands of marginalized people.
TPRF has also awarded hundreds of grants to partner organizations in 40 countries to fund a wide variety of humanitarian initiatives, from disaster relief and water infrastructure to IT labs for students.
Efforts for Peace
The Foundation's other signature initiative is its Peace Education Program. This innovative workshop series consists of several 10-session courses that explore the meaning of personal peace, each one helping people discover their own inner resources so that they can live more fulfilling lives. The program has been proven to benefit diverse groups of people in over 80 countries and has been translated into over 35 languages. It has been valued in universities, health care facilities, veteran's groups, corporations, police units, community groups, and correctional facilities, to name but a few.
Each of the 10 sessions focuses on a theme: Peace, Appreciation, Inner Strength, Self-Awareness, Clarity, Understanding, Dignity, Choice, Hope, and Contentment.
The core material for each theme is a selection of video excerpts from Prem Rawat's talks. Sessions also include facilitated reflection time, participant discussion, and workbook learning. The interactive, multimedia workshops are non-religious and non-sectarian.
Participants often report life-changing experiences as the sessions help them discover their own inner strength, understand the power of their choices, and feel a sense of personal peace.
TPRF regularly sponsors live forums with participants in the Peace Education Program, so they have the opportunity to ask Prem Rawat questions and follow up on the workshop themes. TPRF also sponsors forums on peace with political, business, and NGO leaders, and produces videos that reach millions of people with messages that inspire peaceful living.
For more information about Prem Rawat, visit his website at www.premrawat.com.
Focus on the Peace Education Program
"The Peace Education Program tries only to achieve one simple thing: it's to put you in touch with yourself."— Prem Rawat
The Peace Education Program aims to change the way people view their lives. The goal of workshops is not to convey a ready-made definition of peace or to create peace, but to help people become aware that peace lies within each one of us. We already have peace; it is simply waiting to be discovered, cultivated, and practiced.
Prem Rawat makes the Peace Education Program available free of charge via TPRF. Individuals and organizations interested in offering the program to their constituencies can apply for a complimentary license from TPRF. Once approved, the charity provides all the materials and training needed to conduct the workshops. Learn more about applying for a license here.
TPRF also works with corrections technology companies to make the program available to inmates on tablets when they are unable to meet in groups.
What the Peace Education Program has Achieved
The Peace Education Program has been evaluated by Dr Jamshid Damooei, president of Damooei Global Research. Three hundred sixty-five participants from around the world responded to a satisfaction survey. Before participating in the workshops, less than 42% of those surveyed thought that it was possible to feel peace. After the program, 75% of respondents felt that peace was truly possible in their lives. These encouraging results are supported by numerous testimonials from diverse groups of people who have followed the program. Other studies are in progress.
Spotlight on Peace Education in the U.S.
"The peace education participants all leave better than before. Some who were known to have coping and behavioral challenges have made 180-degree turnarounds." — Terrence Mathews, Counselor at Metro West Detention Center, Atlanta, Georgia, U.S.
See Prem Rawat as he speaks to inmates participating in the Peace Education Program at the Twin Towers Correctional Facility in Los Angeles, California, the largest jail and mental health facility in the world.
Spotlight on Peace Education in the U.K.
"I was an angry, hating man when I first started it. A big conflict I had was trying to understand myself. I didn't have the tools, and now I've got the tools from the Peace Education Program." — Blair Murray, a client at The Beacon, a recovery center for homeless veterans in North Yorkshire, England
See Prem Rawat as he joins community leaders to address the tragedy of gang violence and find innovative solutions at Lambeth Community College in London.
Spotlight on Peace Education in Colombia
"Bringing peace education to five hundred schools in Antioquia is sending a message: there is a new possibility. Those children that stopped dreaming about the future are now building the future." — Dr. Néstor David Restrepo Bonnett, Secretary of Education Department of Antioquia, Colombia
This documentary features interviews with people deeply affected by the 50 years of civil war in Colombia. Discover their moving stories and how the Peace Education Program is helping them recover. Prem Rawat signed a memorandum of understanding to offer the workshops at more than 500 schools in the state of Antioquia, hard hit by the decades of conflict.
Spotlight on Peace Education in South Africa
"Peace Education has changed our lives completely, and the way we think about each other."— Student, Topaz Secondary School in Lenasia, South Africa
Young people living in Katlehong, South Africa face intense daily challenges. This video highlights how the Peace Education Program is empowering a growing number of them to break the cycle of bitterness and build better futures. Over the course of many years, Prem Rawat has visited South Africa numerous times to help facilitate a sense of reconciliation, hope, dignity, and peace among historically disadvantaged peoples.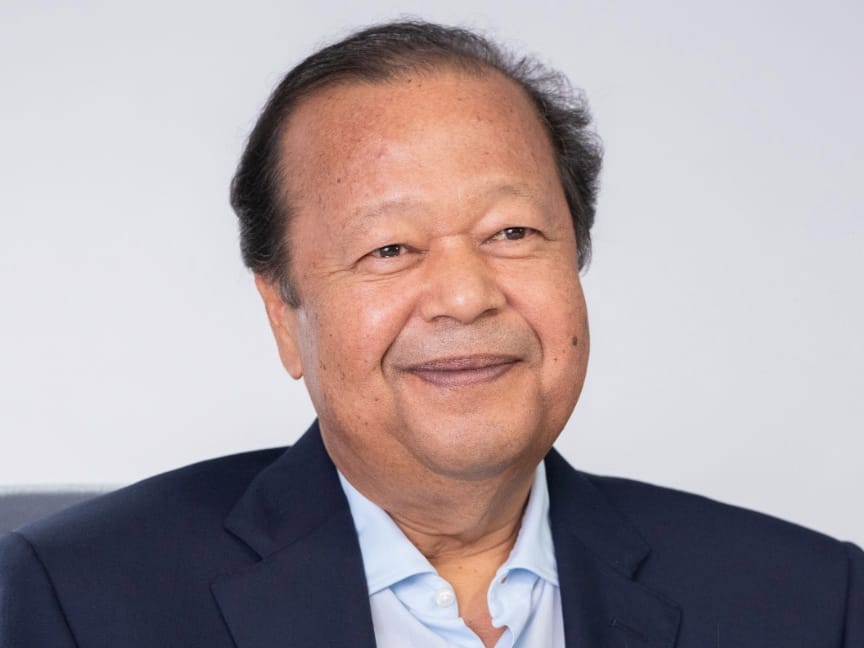 Prem Rawat: Honors & Awards
Prem Rawat has received widespread recognition. Proclamations and resolutions that honor his work, keys to cities, letters of appreciation, and invitations from government officials are among the many ways he has been honored through the years. Select tabs above to view a partial list of honors received.
Ambassador for Peace
2006: Title first conferred by Pierre Weil, rector of the International University of Peace, UNIPAZ Florianopolis, Brazil
2007: Designated Ambassador of Peace for the Basilicata Region of Italy by the governor, and the City of Sondrio, Italy
2011: Appointed by Gianni Pittella MEP, 1st Vice President of the European Parliament, as "Ambassador for Peace" on behalf of the Brussels Declaration Pledge to Peace, signed at the European Parliament in 2011
2012: Acknowledgement as Brussels Declaration Ambassador of Peace, Italian Senate
2013: Acknowledgement as Ambassador of Peace, National Agrarian University, Peru
International Achievement Awards
2006: Distinguished International Humanitarian Achievement Award by Mary Singletary, President of the National Council of Women, New York, New York
2012: Lifetime Achievement Award granted by Asia Pacific Brands Foundation, Kuala Lumpur, Malaysia
2013: Bharat Gaurav Award and Certificate awarded by India International Friendship Society, New Delhi, India
2015: Order for International Merit of Blood from International Federation of Blood Donor Organizations
Resolutions, Proclamations
Governors of Michigan, New Hampshire, New Mexico, and NewYork. General Assembly of the State of Connecticut; Court of Common Council, Hartford, Connecticut; Pennsylvania House of Representatives; Rhode Island General Assembly; Wisconsin Legislature. Mayors of Boston, Massachusetts; Los Angeles, California; Buffalo, New York; Boulder, Colorado; Miami, Florida; Fort Lee, New Jersey; San Francisco, California.
Keys to Cities, Honorary Citizenship, City Seals
Keys to cities: New York City, New York; New Orleans, Louisiana; Oakland, California; Kyoto, Japan; Detroit, Michigan; Miami, Florida; Miami Beach, Florida; Tainan, Taiwan; Corleone, Agrigento, Padova, Palermo, Mazara del Vallo, and Segesta, Sicily, Italy. Freedom of the City of London
Honorary citizenship of the city of Saõ Paulo, Brazil, 2013
The Staffs of Power and Distinguished Guest Diplomas from the cities of Otavalo, Ecuador, and Cusco, Peru, 2013
Honorary Diploma and Medal from the University of San Antonio Cusco, Peru, 2013
Letters of Appreciation & Honors
City of Atlanta, Georgia; United States Library of Congress; National Geographic Society; Vermont Historical Society; and from Hon. Franco Marini, President of Italian Senate.
Special Honors given by Government Officials
Augusta, Maine; Denver, Colorado; Los Angeles, California; Portland, Oregon; Quito, Ecuador; San Francisco, California. Honorary citizenship granted by mayors of Agrigento, Corleone, and Mazarro del Vallo, Italy. Honorary Mayoralty of the City granted by the mayor of San Antonio, Texas
Media Awards
Award for Best Television Program twice by the Brazilian Association of Community Television Channels for Words of Peace, a weekly series featuring Prem Rawat's message of peace.
Chosen by Promovision Viewers as Favorite TV Program in Mexico.
Won first place honors in the 2007 Community Access Magic (CAM) Awards, sponsored by CTV, USA