In August, The Prem Rawat Foundation (TPRF) sponsored a conference that brought together hundreds of chiefs, kings, and government officials in the West African nation of Côte d'Ivoire to consider the theme of "Traditional Wisdom in Service to Peace."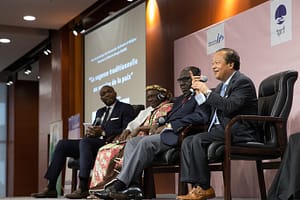 Supported by the Governor of the District of Abidjan and organized by the local NGO Association of Initiatives for Peace, it featured speeches from several national leaders, a question-and-answer session, and a keynote address by TPRF Founder Prem Rawat.
In the days since, several of the attending dignitaries provided feedback on what they learned at the conference and their hopes for the future as Côte d'Ivoire recovers from years of civil conflict.
Here are excerpts of what some of them had to say:
Jerome Koutouan, Governor's Cabinet Director
"This conference helped all the kings and chiefs be present just like a compass. It is reinforcing the understanding that peace is within us, that it is sleeping inside. We just have to use it."
Ebolo Koka, Chief of Abey Kkrobou in Abobo
"This was an exceptional conference, the best I ever attended. Prem Rawat gave us tools so that we can go back and speak to our populations and so that Côte d'Ivoire can definitely come back to peace."
Obou Amon, Chief of Akoupe Sedji
"This conference gave us a lot of information so that we can contribute to bringing social peace in our villages."
N'Kayo Gregouard, Chief of N'bonoua
"Prem Rawat is a man full of wisdom. He allowed us to grow and go back home with more wisdom. It is great that the district and the associations organized this conference to help bring us towards reconciliation. I am very satisfied."
Tiemoko Jean Bafian, Chief of Adjamé Quartier Tibrié
"All the chiefs were very happy. My impressions are good. My feelings are encouraging. My wishes are that Mr. Prem Rawat return to Côte d'Ivoire to give the same conference to all the chiefs, every year."
Afoue Joseph, Notable of Montezo
"The conference was rich in information. It is therefore with a feeling of joy and satisfaction that I hope the leaders and decision-makers at all levels are imbued with the message and the stories of Mr. Prem Rawat."
Akichi Akichi Philippe, Chief of Montezo
"I hope Prem Rawat's message will be grasped by the authorities, the decision-makers; that this message will be adopted and applied; that each one of us will cultivate peace and forgiveness, recognize the worthiness of the each other, and will stay away from egoism and jealousy."
Aboeya Nch, Chief of Ahoutoué
"I was personally interested because my village is presently experiencing division and disrespect in regards to the traditional and cultural process of peace. Misunderstandings and incomprehension are creating physical confrontations with knives and even firearms. Wise people from the village are putting everything in place to find solutions. The conference has educated me on a possible approach to finding peace through understanding, discussion, and reconciliation."
Read more about the conference here.