Joyce Dotse is the chief cook at the Food for People (FFP) facility in Otinibi, Ghana, overseeing a kitchen that serves approximately 500 meals daily to children and elderly adults. TPRF correspondent Alex Wiredu recently interviewed her about the job.
Where did you work before starting at the FFP facility?
I was working as a cook at the Presbyterian Women's Centre at Abokobi. It's a resort that hosts events such as conferences and seminars.
What are your daily duties at FFP?
My daily duties include planning the menu, making requisitions for the kitchen, ensuring all ingredients are available and sufficient for the meal to be prepared, and supervising as well as assisting in the meal preparation.
What is your favorite part of the job?
My favorite part of the job is when the work gets done on time. I feel very satisfied when the children and elderly are eating happily, and feel full after their meal.
What is the hardest part of the job?
I don't like the stress involved in making corn dishes such as Kenkey and Banku. But now we have someone else doing that, so I'm happier.
Do you have a favorite meal that you like to cook?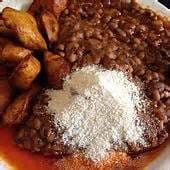 I love to cook bean stew, gari (a dough made of cassava, a root vegetable) and fried plantain. This is also one of the children's favorite dishes. It is a very balanced meal, as the beans provide the protein and vitamins, the gari provides carbohydrates, and the plantains contribute iron and carbohydrates.
What have you learned working at FFP?
I have learned a lot, such as how to work with others as a team, and how to communicate more efficiently with the other staff. I have also learned a lot more about health—especially about personal hygiene. Also, I've learned a lot about proper safety measures that we use in the kitchen and throughout the facility.
New apartments were recently built for FFP staff. Do you like your new place?
Yes, I love it because it's more spacious than the previous place, which FFP rented for the staff. Every apartment in the new building has its own washroom, making it more comfortable. It's easier to get to work on time because it's right next to FFP. We used to live in Amahia, which is a 5-minute drive and a 25-minute walk from the facility. I now have a little more time to prepare the food thanks to the foundation and its founder, Prem Rawat.