Known as the "Queen of Textiles," silk is a shimmering fabric that often signifies comfort, elegance, and style. The silk industry is a big business in India, and the government's Ministry of Textiles supports it through a large agency called the Central Silk Board. The Silk Board recently started offering the Peace Education Program (PEP) to employees, with great results.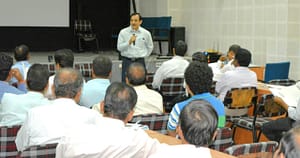 "The Peace Education Program has not only enabled participants to do self-introspection to discover peace within, but has also made them poised, more organized and systematic in their approach, and relaxed thereafter," says Dr. B.S. Angadi, the Silk Board's technical director. "The message in this program is beneficial and essential for all human beings."
Volunteers with The Prem Rawat Foundation (TPRF) first approached Silk Board managers about offering peace education last year. Seeing great value in the program for employees, the Silk Board management team decided to integrate PEP into its Training and Development Department.
"This was the first PEP in Southern India that was organized with very minimal support from TPRF volunteers," notes Jyoti Singh, a TPRF volunteer who coordinates PEP in the region.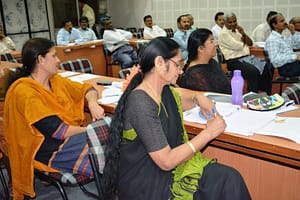 The Silk Board initially granted 40 employees the opportunity to take the class at its headquarters in the city of Bangalore. Seeing the positive impact it was having, management started offering PEP to more employees at four other offices in Bangalore and the surrounding region. So far, 152 employees have participated, and the organization is considering offering it in more offices in different regions across the country.
The interactive PEP workshops are based on Prem Rawat's international talks and aim to help participants discover an inner sense of strength and hope. During reflection times throughout the 10-session course, participants shared a range of thoughts on what they were learning.
Here are a few examples of what participants said:
"PEP is helping me to know the real meaning of life. I am thinking deeply about what it means to be a human being."
"This program simplifies the complicated. Thanks to Mr. Prem Rawat for making his message available in this world."
"I travel a far distance every day to reach the office, and sometimes I get frustrated seeing how people are driving down the road. It spoils my mood so badly. But after listening to Mr. Prem Rawat, I realized that feeling good inside can take care of it very well. If I feel good inside and somebody wants to cut in front of me, it's no problem. I must do something every day to feel good from the inside. Then all is well."
"I like this program because it explains exactly what is missing in this world right now. The message is all true and very practical."