Pat Sapio (left) and Luigi Persichetti
The establishment of the Peace Education Program (PEP) in the desert city of St. George, Utah, started with a Google search and continues with the effort of dedicated volunteers.
"A few years ago," says Luigi Persichetti, a retired minister at the local Unity Church, "I just happened to be surfing the net one day, and I saw the website for The Prem Rawat Foundation. I clicked on it and found out about the Peace Education Program."
A long-time peace activist, Luigi was intrigued enough to order the workshop materials. He soon offered the first PEP to ever take place in Utah at the public library. That was back in 2013, and only a few people showed up, "but I wasn't discouraged because basically I just wanted to find out the process of the program and get familiar with it. I enjoyed presenting it to the people who did show up," Luigi recalls.
He then started offering the course at the Institute of Continuing Learning, a senior educational program at Dixie State University, finding a much larger pool of participants. One of the first ones was Pat Sapio, a retired social worker and college professor who also taught at the institute. Pat thought the program was so "impressive" that he offered to help Luigi facilitate it, and the duo have been offering it together there ever since.
In the last three years, hundreds of people have participated in PEP at the institute, and Pat reports that, "most say it really makes a difference for them, that they really do have a different perspective about peace than when they first came to the class."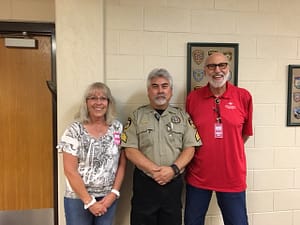 Cyndi Schmidt, another participant in the initial PEP offered by Luigi at the Institute, was also so moved by the program that she decided to help facilitate it for others. "I found it to be very helpful and useful to reflect on how I am living my life and how I want to live my life," she says.
Pat, who calls himself "82 years young," and Cyndi are now offering the course to inmates at Purgatory Correctional Facility. Encountering initial skepticism from the program director there last year, Pat is pleased to report that after seeing the positive impact PEP has had on participants, corrections officers are now very supportive. "The director did a complete about face, and now he treats us like gold," he says.
Cyndi notes that the great feedback they hear from the inmates is inspiring. After one of the workshops, she recalls a participant saying, "This is the best class I have ever taken."
Encouraged by that kind of response, the volunteer team in Utah is also exploring opportunities to offer PEP at a local home owners association, a church, and a shelter for abused women.