The Peace Education Program (PEP) is finding a welcome home at the Spanish Federation of UNESCO Associations and Clubs. After evaluating the program in Malaga, Spain, officials are now recommending that it be incorporated into UNESCO's efforts around the country and beyond.
It's not surprising considering that the program's goal of helping participants cultivate a sense of inner peace is a perfect match for UNESCO's mission of "building peace in the minds of men and women."
Antonio Requena, CEO, and Elena López Valcárcel, General Manager at the Malaga Club for UNESCO, initially started offering PEP at two different correctional facilities near Malaga. With the help of volunteers from The Prem Rawat Foundation (TPRF), the courses were offered to three different groups of inmates at Alhaurín Prison and the Social Insertion Centre of Malaga over a 30-week period.
Officials monitored the results and found that the course reduced violence among participants and spurred calmer attitudes. Mr. Requena was so impressed that he wrote a letter of endorsement to colleagues, stating: "This program's principles agree with those on culture and peace promoted by UNESCO in their Culture and Peace Program, as well as with the principles promoted by the UN General Assembly Declaration and Action Plan about culture and peace. That is why I recommend PEP to every institution affiliated with UNESCO as well as any other association promoting peace as a vehicle for social harmony."
On March 9, Mr. Requena also invited PEP representative Tomás del Arco to present the program to leaders at a national conference on the implementation of UN Sustainable Development Goals (SDG), held at the Carmen Thyssen Museum. Attendees included government leaders from Malaga, representatives of notable educational, social, and civic associations, as well as members of the Spanish Federation of UNESCO's Centres, Clubs and Associations (FECU).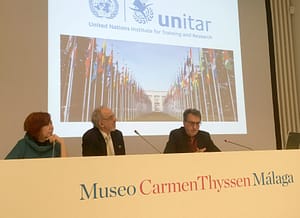 Del Arco received a warm reception as he outlined the results that the program is having in Spain, as well as 80 other countries around the globe, including Colombia, where the government is incorporating the program into 500 public schools as part of reconciliation efforts following more than 50 years of civil war.
Attendees were also impressed with his presentation on Food for People, another TPRF program that helps cultivate peace by providing hundreds of thousands of nutritious meals to children living in destitute parts of India, Nepal, and Ghana. The program is eradicating hunger and increasing health, academic achievement, and economic outlook.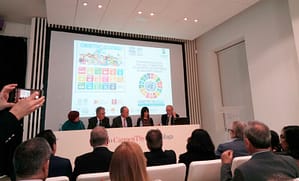 As part of his presentation Del Arco showed the video, "Light up the world: TPRF's Peace Education Program," receiving warm applause at the end.
Dovetailing with the presentation on PEP, Malaga Mayor Federico de la Torre encouraged leaders to work on the 17 UN Sustainable Development Goals (SDG), and former UNESCO CEO Federico Mayor Zaragoza sent a moving video message in support. Other speakers included Julio Andrade, the manager of the UN office in Malaga, UNITAR-CIFAL, who explained the role of a new agency that covers humanitarian initiatives in southern Spain and northern Africa.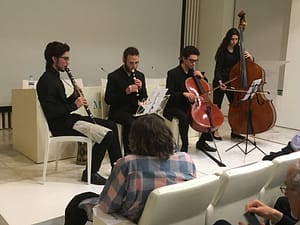 The event ended with a concert by four talented, young musicians from the Andalusí Orchestra, who interpreted three compositions from Christian, Arabic, and Jewish origins, tacitly recognizing the importance of Malaga. The city is rich with diverse cultures that have coexisted in peace for thousands of years, birthing renowned artists such as Pablo Picasso.
Del Arco was later invited to sign a memorandum of understanding with Alberto Guerrero, President of the Spanish Federation of UNESCO Associations, Clubs and Centres, to bring PEP to every Federated UNESCO Centre in Spain.