The newly released 2015 Annual Report shows that the year was full of growth for The Prem Rawat Foundation (TPRF) and its initiatives to help people around the globe live with dignity, peace, and prosperity.
Each year, the nonprofit produces a report detailing the work it accomplished the previous year, giving the public a transparent look at its programs and finances. It's just one of the many steps TPRF takes to ensure accountability as well as excellent ratings by respected independent charity evaluators such as Charity Navigator and Guidestar.
In 2015 more than 500 Peace Education Programs were presented worldwide, engaging over 8,000 participants and branching into 9 new countries, bringing the total to 57. People from vastly different cultures reported that the course helped them discover their own inner strengths, including an inmate at Malmesbury Prison in South Africa, who said, "I have never felt so free as a human being. Freedom is inside me. I will live my life differently from now on and make better choices."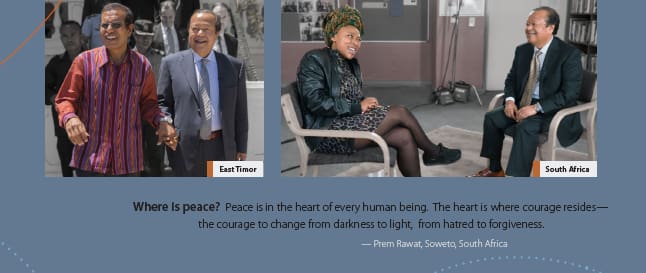 TPRF also supported numerous events where its Founder Prem Rawat spoke about peace education and personal peace to diverse groups across the globe—from students, business leaders, and government officials to inmates.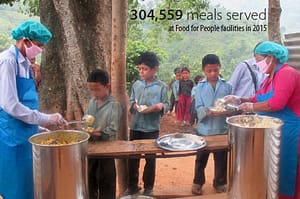 The Food for People (FFP) program expanded to serve 304,559 nutritious meals to thousands of impoverished children and ailing adults in Nepal, Ghana, and India.
In response to a devastating 7.8 magnitude earthquake in Nepal, the FFP facility was immediately transformed into an emergency shelter and supply center, providing critical aid to people long before other NGO and government help arrived. A corresponding fundraising tribute raised more than $230,000, allowing TPRF to provide safe food, water, and supplies such as galvanized iron roofing sheets. To meet long-term needs, TPRF also expanded its food aid to double the amount of children who receive daily meals.
Earthquake victim Chandra Waiba expressed deep gratitude. "Had there been no Food for People program, we would have died of hunger," she said.
TPRF's revenue in 2015 was $1,971,948 with 98 percent of that amount coming from donations. Expenses totaled $1,968,780 and at the end of the year the foundation had net assets of $1,876,086.
View the complete report here.