As soon as the shocking news of Typhoon Haiyan began circling the world, friends of TPRF began donating funds to help. TPRF soon had matching funds of $50,000 to begin a relief appeal and was able to provide $50,000 each to  "http://www.mercycorps.org/" Mercy Corps and   "http://www.americares.org"  AmeriCares. Six months after Typhoon Haiyan ripped through the Philippines, recovery efforts by these two charities are well under way.
Mercy Corps
Although it will take many years for the worst-hit communities to fully recover, says Cully Lundgren, director of development for Mercy Corps, "thanks to the support of partners like you, communities are hopeful and committed to building back better. Mercy Corps was able to provide food, clean water, and emergency relief items to more than 18,000 people in remote areas that had received little or no assistance right after the storm hit."
With an eye to long-term economic recovery for struggling Filipinos who lost everything in the storm, Lundgren reports that Mercy Corps has developed an innovative electronic cash transfer program with a local microfinance bank to deliver cash grants to survivors via mobile phones.
Among the beneficiaries is Nino Francisco, who lives with his wife, Merley, and their four children in the small fishing village of Bogo on the northern tip of Cebu Island. The typhoon severely damaged both their home and Nino's fishing boat, leaving him with no means to support his family.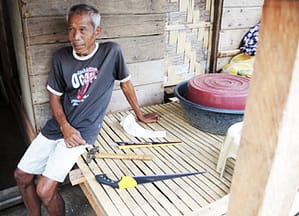 "Without an opportunity to earn income, they could not afford essentials for their family, like water, school fees and medicine for their children," Lundgren says.  In December, Nino and Merley received 2,000 pesos ($44 USD) from the program—enough to buy materials to repair the boat, pay the children's school fees, and begin rebuilding their lives.
"This safe and efficient form of support ensures that people can purchase exactly what they need for their families, while kick-starting local markets," Lundgren says. "On behalf of all of us at Mercy Corps, daghang salamat – many thanks for your partnership to bring help and hope to Typhoon Haiyan survivors."
AmeriCares
Meanwhile, TPRF's partnership with AmeriCares "is helping to support the revitalization of the overstretched public health care system in the aftermath of Typhoon Haiyan," says AmeriCares Vice President of Emergency Response, Garrett Ingoglia. "One area of focus has been on underserved communities in Pontevedra and Pilaron the northern coast of Panay Island."
AmeriCares estimates that more than 2 million people on Panay Island were affected. In some coastal areas and inland zones in the direct path of the typhoon, up to 95 percent of structures were lost.
AmeriCares, in collaboration with the International Organization for Migration-Philippines (IOM), is focusing on supporting existing health-care facilities by providing essential medicine, supplies and equipment; augmenting medical and nursing staffs; supporting referrals to higher-level care when needed; conducting community outreach activities; and repairing damaged facilities.
TPRF funding enabled the repair and refurbishment of five health stations, providing access to primary health care for an estimated 15,000 people, says AmeriCares Associate Director of Institutional Relations, Cornelia Brefka. "We are very grateful for your support," Brefka says. Ingoglia reports that AmeriCares and IOM recently officially handed over five rehabilitated facilities in a ceremony that included the mayors of Pontevedra and Pilar, the governor of the province of Capiz and representatives from the Philippines Department of Health.
Photo Credits:
Mercy Corps: courtesy of Mercy Corps (photos 1,2)
AmeriCares:  courtesy of AmeriCares (photos 3)