Hunger pangs are a thing of the past for the young children who recently started benefitting from an expansion of the Food for People (FFP) program in Nepal.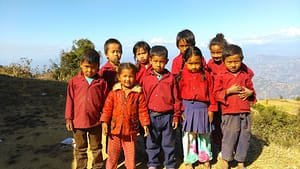 With no government support available in the small mountain village of Salampur, administrators at the Ganesh Primary School requested help feeding the area's 22 children. Some of those kids had been trudging four hours roundtrip each day through rugged terrain to eat at the FFP kitchen in Tasarpu. School attendance hovered around 15 students, with many of them leaving class early to search for their next meal.
Parents struggle to farm the nearby fields, as rocky soil and steep slopes make it impossible to grow crops for more than a few months each year. Other work is scarce, although some find jobs as part-time laborers.
Conditions became even more desperate in the wake of the devastating 2015 earthquakes.
But parents are now breathing a sigh of relief knowing that their kids are receiving at least one healthy meal per day at school.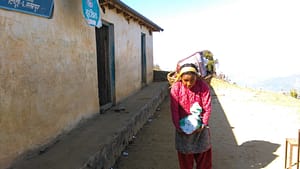 Porters began making the daily trek from the FFP kitchen to Ganesh Primary in December, delivering the kids' nutritious lunches in large hygienic metal containers. The deliveries come in addition to the two schools that have been receiving similar porter services since 2015, Mahakali Secondary School and Liti-Mahakal Secondary School. FFP is now serving more than 1,600 children in Nepal every day.
Mirroring the positive trends at those other schools, attendance at Ganesh Primary immediately rose, attention spans increased, and health improved. The village's 22 children are now all regularly attending school and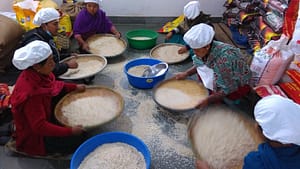 staying in class throughout the day, according to Tikram Tamang, Chairperson of the School Management Committee.
"It has been a great help and is having many benefits," he says. "Thank you to the Foundation!"
In 2016, the FFP program served 379,472 meals to children and the elderly in Nepal, India, and Ghana, marking a significant increase from 2015.