The Prem Rawat Foundation (TPRF) recently sponsored eye care clinics in four states across India, providing relief to thousands of people in need. The vast majority of the 7,380 patients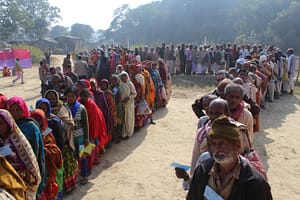 were disadvantaged farmers, laborers, and elderly people who had no other way of receiving essential care. Some walked as much as 60 kilometers to attend the free clinics, where they were warmly greeted by doctors, refractionists, and hundreds of other skilled volunteers.
"I have no words to express my satisfaction after attending the clinic," said Chanri Devi of Uttar Pradesh.
Devendra Marandi, who also attended the clinic in Uttar Pradesh, said it was the first time she was ever able to get her eyes examined. "It felt nice and I got spectacles [glasses]. I was not able to read before the clinic. Now I can read clearly with the help of the specs."
Devendra was one of the 4,535 people who received free glasses at the clinics.
Another, Swacheen Mandal, noted that her new glasses will allow her to provide clothes for her family. "I wasn't able to pass the thread through the needle when sewing. Now it's clear with the new spectacles," she said.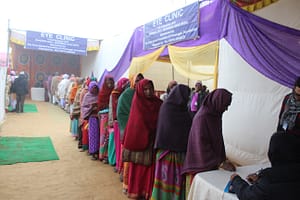 In addition to glasses, volunteers at the clinics distributed crucial medication to more than 6,500 people, and provided more than 1,500 with a diagnosis of cataracts to qualify them for surgery at a government hospital.
This is the fourteenth year in a row that TPRF has sponsored such clinics in India, which has the dubious distinction of having one of the highest proportions of blind people in the world. Thankfully, about 80% of eye problems are preventable or curable with the type of modern care provided at TPRF clinics.
Government officials and local leaders joined the patients in expressing thankfulness for the aid.
Dr. Louies Marandi, who serves as the Honorable Minister, Welfare, Social Welfare, Women and Child Development, in the state of Jharkhand said, "These services are widely appreciated. The poor people of the area will enjoy the benefits for a long time."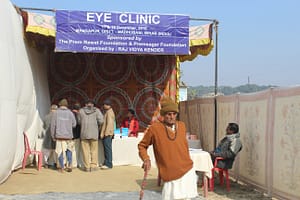 Like last year, TPRF partnered with two Indian NGOs to organize the clinics—Premsagar Foundation and Raj Vidya Kender.
Ram Charan Singh, a journalist who visited the clinic in a remote area of Bihar, said he was impressed with what he observed. "The institutions, along with doing a public service, are bringing light to people's lives. Very few institutions make this kind of effort."