Responding to urgent needs on the ground, The Prem Rawat Foundation (TPRF) has expanded its earthquake relief effort in Ecuador, awarding a total of US $55,000 in grants to provide thousands of people with food, water, shelter, medicine, and sanitation facilities.
The focus is on helping impoverished communities in the Esmeraldas Province along the northern coast, an area that continues to be rocked by numerous aftershocks following a devastating 7.8 magnitude earthquake that struck April 16.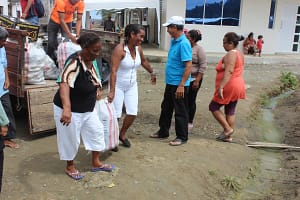 Emergency supplies are being distributed with the help of two Ecuadorian charities that have deep local ties: Mountains of Hope (MdE) and the Union of Farmers Organizations of Esmeraldas (UOCE). After the April quake, displaced families throughout Esmeraldas sought refuge in roadside recovery camps, often moving into makeshift shanties built from salvaged materials that became unbearably hot under the tropical sun. TPRF funds are being used to replace these ill-suited shacks with high-tech "cabin shelters" that can each house 10 people for up to two years.
To date, TPRF has helped revamp five recovery camps with 62 of these cabin shelters, communal kitchens, sanitation facilities and children's activity areas. Building materials for 100 more shelters were recently shipped in.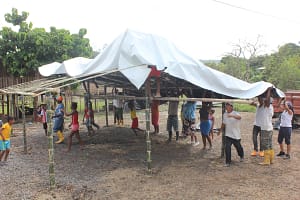 On the island of Muisne, "the intense heat inside the first shabby shelters was causing illness; children suffered from dehydration," reports Nancy Bedon, a UOCE Manager. "The support from the Foundation with the new cabins has helped us rebuild our community and family network. I want to give thanks for the support and for making us feel that we are not walking alone, that borders don't matter. What matters is to feel this brotherhood."
This week several aftershocks with magnitudes of up to 6.4 jolted Muisne, causing students to abandon school buildings in fear of their collapse. So TPRF is also helping construct temporary classrooms that are much safer during tremors. "Mothers and teachers are very grateful," says Paul Murtha, Executive Director of MdE, which TPRF has partnered with on several prior humanitarian projects.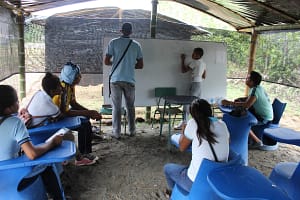 In addition, TPRF monies are being used to develop innovative, earthquake-resistant model homes that utilize local materials. The idea is that families will then be able to replicate the new process to construct safer long-term housing.
Access to clean water also remains a critical challenge in Esmeraldas. TPRF is responding by providing water filtration systems and helping rebuild a damaged water tank that serves people in three towns.
Although many hurdles remain on the road to sustainable recovery, "the wonderful and rapid response from TPRF has had a profound impact on the hope and dignity of affected families," says Murtha.
In the long-term, Gonzalo Guzman, President of UOCE, is also confident that the TPRF aid will help restore optimism among people and reactivate the economy. "On behalf of our organization and the families that have been helped with dignity, thanks to the Foundation for your solidarity and warm support," he says.