On April 3th, 2012, a gloomy hall in Ezeiza Prison in Argentina was transformed into a place of excitement and hope. Marcela Isaurralde is one of the volunteers who moderates the Peace Education Program (PEP) classes offered at the prison. This is Marcela's account of Prem Rawat's visit to the Ezeiza Women's Prison. It begins with a poem written by one of the inmates who participates in the PEP classes.
Our days in prison are wrapped in so much pain and sadness.
Our days in prison are endless, so lonely.
But today was wonderfully different.
Today, Prem Rawat came to visit us, to speak to us!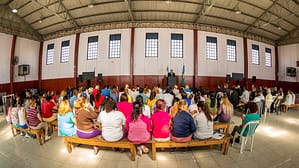 Yes, here! In a place where hardly anybody comes to visit, hardly anyone wants to speak to us, almost everybody has forgotten us. But Prem Rawat has not ignored us.  He has not forgotten us.
The set-up for the event started early in the morning with curious inmates wanting to help. Everyone was happy and feeling so good as they chatted and cleaned the stage, chairs, and bathrooms. Catering was provided by volunteers, and inmates helped themselves to fruits and delicacies that they hadn't eaten for ages!
Stella, a very helpful guard, had attended Prem Rawat's previous conference in Ezeiza prison in September, 2010. She has been listening and sharing DVDs and written materials with friends, family, and other guards. She has handed out DVDs and materials in places within the prison where the TPRF volunteers have no access. Thanks to her wonderful help, so many inmates have been regularly reading and listening to Prem Rawat. Today those inmates will attend the event.
While setting up, the inmates who had been with Prem Rawat in 2010 invited and encouraged everybody—even the guards—to attend, telling them of unforgettable moments from the previous event.
When the set-up was done, the inmates came in. Some walked heavily, dragging themselves along as if carrying feelings of pain and suffering. Others entered anxiously, chatting and laughing nervously. The troublemakers came in as if ready to start a row. Those who had heard Prem Rawat in 2010 walked in happily, feeling excited and thankful.
When Mr. Rawat entered the hall, everybody stood and clapped. When he began to talk, something in the inmates seemed to change, as if appreciating his words and understanding them from their hearts. A genuine thirst was being quenched.  Prem Rawat transmitted so much peace and hope in his powerful, compassionate message. It was as if an old friend was taking them by the hand and leading them by the heart. His message touched everyone so tenderly, so simply. It was time to set the heart free! Time to feel like a human being again!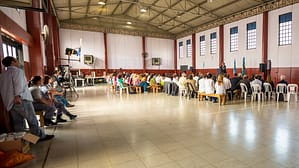 As the event continued, some inmates had the chance to speak to Prem Rawat, expressing their love for him and for his message. Others just walked up to him and gave him gifts from their hearts.
When the event ended, everybody stood and clapped cheerfully, endlessly. Then slowly and peacefully, the inmates began to leave the hall. Some thanked us happily, some walked speechlessly, their beautiful smiling faces speaking for themselves. The tough ones, the troublemakers, hugged us. In tears they thanked us, and repeated like a lullaby, "Please tell Prem Rawat thank you. Please don't forget."
Today, Prem Rawat's message touched everyone's hearts—the inmates, the guards, the authorities, the priest, the volunteers.
Some inmates expressed it so beautifully:
I have found myself in his words.
I have felt hope and peace today.
This is all I've wished for me.
This is all I need now.
Will the inmates meet Prem Rawat again?
When? Where? Who knows?
But their hearts know that they will hold forever
this perfume of hope and peace
they have felt today.
THANK YOU FOR COMING TO UNIT 31.