Vibrant Las Palmas is an island between Spain and the coast of Morocco, situated in the Atlantic Ocean. Las Palmas de Gran Canaria is the most populated city in the Canary Islands and boasts a seaside walk at Las Canteras City Beach that inspires the inhabitants and tourists alike to enjoy evening strolls at sunset.
It was here, in this area, that the Festival of Peace took root. TPRF was one of several sponsors, both local and international. For two weeks, from May 24th to June 7th, many activities were promoted to
celebrate peace. Local groups that had fostered a culture of peace through their humanitarian efforts were showcased. Members of the community became involved in activities like turtle releases, sports events, concerts and a fundraising event called Dinner for Peace. Overall, 20 local NGOs, 30 bands, and 400 volunteers participated in this premier Time for Peace Festival in the western hemisphere.
As the keynote speaker at the final main event on June 7, Prem Rawat spoke at length about the need for peace. "Without peace," he said, "we have no future. Our children have no future. Mankind has no future without peace, and that peace is the most profound, and yet the simplest thing that dances on the stage called a human being. The manifestation of peace happens from inside, not in ideas, but in reality."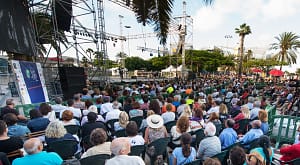 Other notables and speakers also added their expression at the Festival of Peace. Juan Jose Cardona, Mayor of Las Palmas, proudly proclaimed that Las Palmas de Gran Canaria was the first of four cities in the world to promote the values of peace in a festival this year. Baroness Scotland of Asthal, a former Attorney General of the UK, was another speaker at the event. She is the founder and patron of the Eliminate Domestic Violence Foundation, which has helped to reduce domestic violence in Britain by over 60%. Also, Jeremy Gilley, founder of Peace One Day and a co-sponsor of the Time for Peace Festival, spoke via video from the Congo.
Weeks before the main event, many volunteers were actively promoting the celebration with flyers posted up on local businesses. Guaguas Municipales, the public bus company of the city of Las Palmas de Gran Canaria, placed posters of the Time For Peace Festival on all their buses throughout the city. Approximately 2000 people attended the standing-room only main event.
Mary Dalgleish, a volunteer at the Festival, expressed: "I enjoyed a wonderful weekend in Las Palmas with sunshine, sea, friends, and inspiration from Prem Rawat. He reminded me once again of the importance of enjoying peace so that I can savor and enjoy every precious day."
"My takeaway," conveyed one volunteer, "is that peace starts with each one of us."