Susan Ramsey has lived in Colorado for 32 years. Now that she is semi-retired from a career in the natural products industry, she is rediscovering many interests, including creative pursuits, and travels to Latin America to visit indigenous craftspeople. Since her days as a student of anthropology at Macalester College, Susan has enjoyed meeting people from all walks of life and cultures. She follows that passion by volunteering at local homeless shelters as a Peace Education Program (PEP) facilitator.
I have enjoyed volunteer opportunities since I was a teen, beginning at a Head Start Center. I live in Lakewood, Colorado, a suburb of Denver. A few years ago some friends of mine, who had been presenting PEP in nearby correctional facilities, invited me to join their team. Knowing how successful the program has been around the world, I jumped at the chance to participate locally.
Last October, after hearing from a friend about a PEP he had started for homeless veterans in the Boston area, it occurred to me that I had volunteered serving dinners a few years ago at The Delores Project. It is the only overnight shelter in Denver for unaccompanied women and transgender individuals experiencing homelessness. I contacted the Community Engagement Director and set up a presentation.
At my initial presentation, I was also introduced to Heather Orem, their Transitional Advocate. She manages a program called Steps To Stability, which includes Life Skills classes, and she decided to include PEP in that program.
Some of the shelter guests have lived at The Delores Project for more than six years, while many have much shorter stays. Guests must leave the shelter daily from 8:00 am to 5:00 pm. But they are allowed to enter the shelter on Tuesday afternoons for the PEP workshops. Many have spent the day at other day shelters or the library. I never know who will show up for each workshop. Some have said that they came to the class because they could enter the shelter early and then realized the class provided them with a sense of peace and clarity. Heather has told me that the staff noticed the behavior of some of the PEP participants has improved.
Many guests have had very difficult lives. Some are quite private and never share anything during the reflection time, though many others are quick to comment about the message and how it relates to their lives.
One participant commented, "This class is preparing us for when we have our own housing. Because even when we get it, we'll still have to deal with the problems of the world and find peace." Another shared, "When Prem talks about the average lifespan of 70 years equaling 25,500 days, it really hit me! I'm getting older, and I always used to think about tomorrow. But now I want to think about today. That's all I have."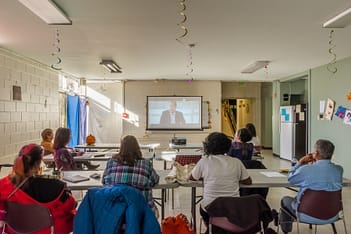 In the past year, over 300 guests have attended at least one PEP workshop. And several guests have completed three 10-week sessions and counting. They appreciate receiving the participation card after ten classes. It gives them a sense of achievement in their lives in which they may feel a lack of control.
One Delores participant also uses a mental health clinic for low income clients and showed a supervisor there a PEP handout of an excerpt of Prem Rawat's talks. The supervisor contacted me and expressed that PEP is a perfect program for their facility, partly due to its non-religious nature. Using their own staff, they will be starting their PEP workshops soon.
Another participant, Karon, is on the steering committee of the local women's day shelter, The Gathering Place. Many guests from The Delores Project spend their days at the facility. Karon will propose the PEP for The Gathering Place.
Over the past year I have gotten to know a number of guests and feel that we are all equals. I see how the PEP provides so much hope and support to them. When I hear their stories about their difficult circumstances and how they are able to appreciate being alive, I see the power of Prem's message.