Marian Masoliver is a filmmaker who, along with Simon Edwards, recently visited Colombia to document the effect that the Peace Education Program (PEP) is having on ex-combatants, victims, and other groups impacted
by the five-decade civil war that is ending there. In this blog, she reflects on the experience. It is her third post about the trip: Read Part 1 and Part 2.
The first thing I saw as I looked out the window on the morning I arrived in Colombia was a big beautiful blue bird picking at the grass and looking at me. Feliz día! (happy day!). Colombians are so friendly, awake, open and ready to help. They seem to have time and light in their eyes. The color and the joy—this is what hit me first when I arrived in this beautiful country.
I am not an expert on the Colombian war, but when I was there, I saw how everyone is tired of this long, inhumane, useless conflict.
Victims want peace, ex-combatants want peace, taxi drivers, business people; everyone we met wants peace. When everyone unites with the same understanding, there is no turning back. "This process of peace is like a bicycle; it has no reverse gear," a High Commissioner for Peace told us while visiting a camp where members of the FARC (the country's largest rebel group) are demobilizing.
Simon and I were in the city of Medellin for two months shooting the documentary as the longest armed conflict in modern times hopefully comes to a close. We followed five victims and ex-combatants as they progressed through the PEP workshops and witnessed how they transformed.
During the first interview, their tragic stories came to the surface. They wanted to talk. They wanted to be heard. And the stories we heard were unlike anything I've heard before:
"I was kidnapped at 13 years old to join an armed group and was with them for 14 years before having the chance to escape."
"I was abandoned at 7 years old and had to work hours on end as a child. At 15 I joined an armed group."
"I roamed this vast country in search for gold as a teenager in order to find a way to survive."
"I had to leave my home and my family because of threats to my life, and I had to walk across the country looking for an opportunity to survive."
"I had to choose one armed group or another at the age of 11. There was nothing else."
Each story we heard could be made into novel or a film. And the more we heard the more we realized that these stories were "normal" for far too many people in Colombia.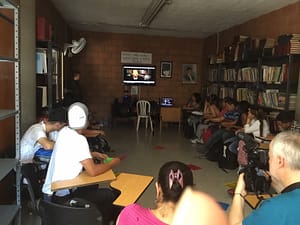 Our new friends participated in the Peace Education Program while they were studying at the Education Centre for Peace and Reconciliation (CEPAR). Many of them had just learned to read and write a year or two ago because they didn't have a chance to study when they were children.
Responding to the question, "How is PEP helping you?" came a wealth of heartening answers:
"I am much more clear. I don't doubt anymore. I have stopped consuming drugs," says one of them.
"It has helped me think before acting," says another whose sister was murdered while he was participating in the program. "My first reaction was to seek revenge, but then I remembered Prem Rawat's words—think a little before you do something, be conscious. I decided to not go and find my sister's killer and seek revenge."
"Congratulations to Prem Rawat. If I had the opportunity, I would like to take this message to the whole world," says an ex-combatant who had been with the FARC for 17 years.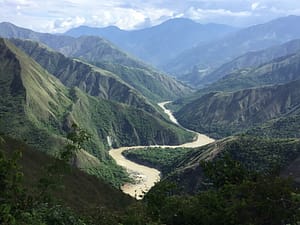 We have witnessed the power of Prem Rawat's words. Somehow, even in the hardest circumstances, these words land in the hearts of human beings and awaken something beautiful, small, fragile, but powerful. And hope starts to dance in their eyes.
In the people we met, we have witnessed life's persistence to overcome tragedy beyond belief and to go forward and prosper. And now it is their time to not just survive but to thrive. They are the hope and the seeds for peace in Colombia. Their time has come to blossom.
Editor's note: TPRF is not in any way involved with the political peace process or negotiations in Colombia.