Commandant Elmer Arrieta with UN representatives
Marian Masoliver is a filmmaker who, along with Simon Edwards, is currently in Colombia to document the effect that the Peace Education Program (PEP) is having on ex-combatants, victims, and other groups impacted by the
five-decade civil war that is ending there. In this blog, she reports on her experience traveling to the village of Santa Lucia to meet with members of the Revolutionary Armed Forces of Colombia (FARC), the country's largest rebel group (PEP workshops were not happening at the camp).
Read Marian's earlier blog entry about her visit to the town of Ituango here.
We get up at 5 a.m. and drive nearly two hours on the dirt track from Ituango, heading deeper into the mountains of Colombia.
Santa Lucia is a thin stream of about 30 humble homes scattered along a steep canyon, about 9 kilometers below the steep surrounding peaks.  In this small rural area there are 250 "guerrilleros" (FARC combatants) in the process of demobilizing and handing over their weapons to the United Nations (U.N.) if or when the peace agreements take place. The area is being monitored by the Colombian government, the FARC leadership, and the U.N. Country folk also live there.
The U.N. container where the FARC weapons would be collected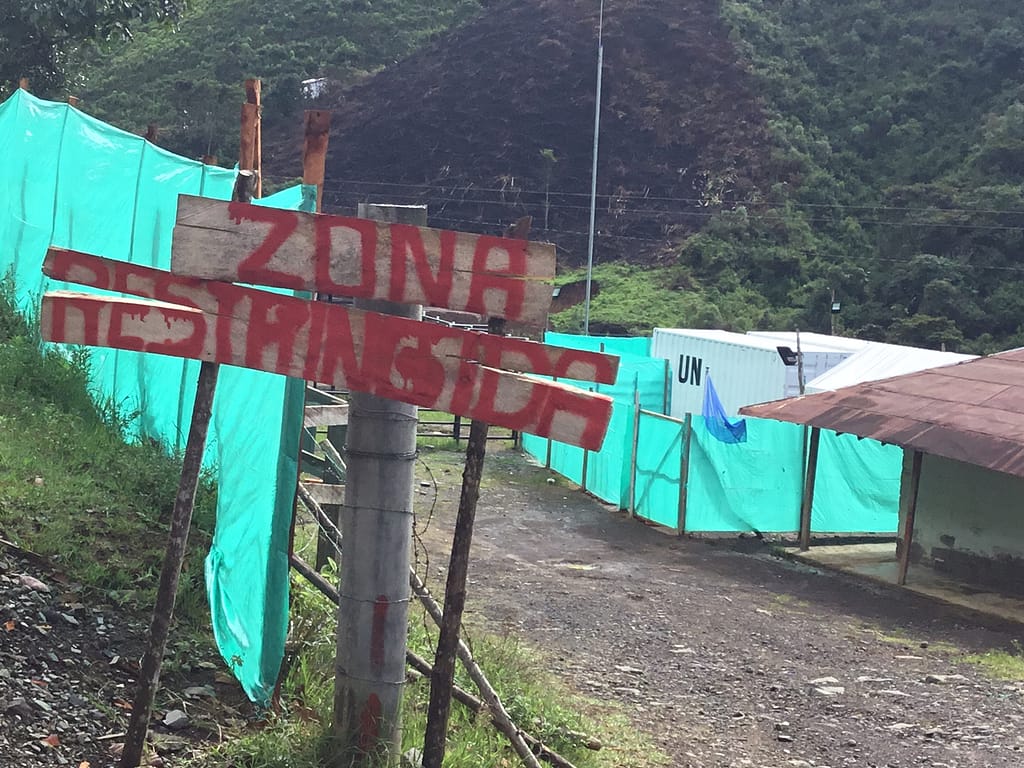 The jeep drives very fast along the bumpy and rough country lane. Simon, Rodrigo (a Brazilian journalist who is traveling with us), and I are holding on tight.
Big mountains adorned with huge, lush trees fill my eyes through the arduous journey. Our guide, Carlos Andrés, a man from the Colombian office of the High Commissioner for Peace, leads the way, traveling by motorbike.
Just five minutes later we stop again, this time at an army checkpoint. The young soldiers are friendly and ask us for our passports. They register our entrance to the camp and we enter FARC territory.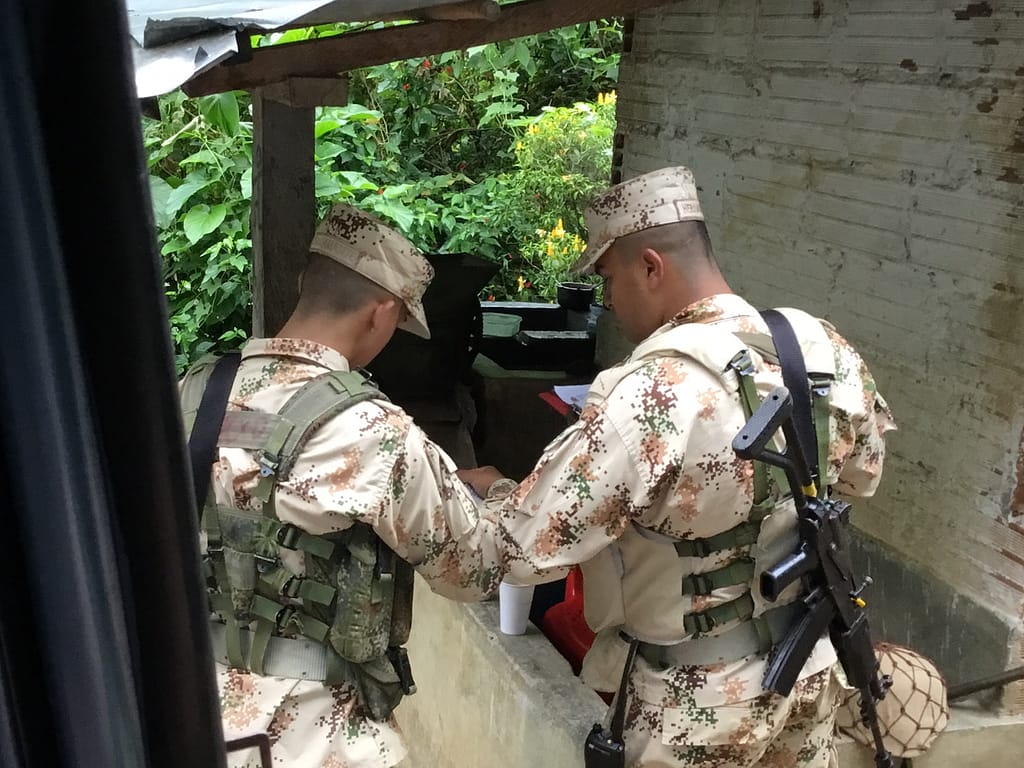 Our next stop is the U.N. base inside the camp. A kind U.N. officer from Chile welcomes us. She, along with a captain and a FARC representative, tell us the camp rules over a cup of "tinto," the local sweet black coffee.
Simon gets a shot for the documentary
We jump in the jeep again and travel nine kilometers further through the canyon. Carlos stops to show us the tents where the guerrilleros are still living. "A new camp is being built for them where they will move in shortly," he explains.
Eventually we arrive at the reception area were some guerrilleros welcome us. More tinto. They are friendly and the ambience is very relaxed. I ask a small group of them if there are fish in the river, and we start to talk about the fauna, the weather… I am just trying to break the ice. The conversation naturally moves to their situation at the camp. An informal interview occurs. The ambience is very peaceful and the pace is slow, another normal day in the countryside.
Finally Carlos tells me that an official interview has been arranged with Elmer Arrieta, the FARC commander of the camp whose alias is "el Flaco." The Brazilian journalist gets the first turn to talk to him. Then we all go for lunch: a simple plate of white rice, fried egg, a piece of meat. The banana juice is delicious! We talk with Elmer about politics, and we all joke around.
After lunch he says jokingly that we only have two minutes for the interview. Even though he is not old, he seems a tired man. I guess 25 years of war, living in the jungle in inhumane conditions, would tire anyone out.
I understand that the interview will not be as long as I was hoping so I quickly review my questions and decide to just talk to him about peace. I start by telling him about The Prem Rawat Foundation and PEP. He listens. We talk for 30 minutes. These are some of his comments:
"What you are telling me about the Foundation sounds very interesting."
"Peace needs to be built from the heart, disarming the hearts."
He tells me that they know they did wrong things and that they are asking for forgiveness.
"When one starts to see that the door for peace and reconciliation is opening, one says, 'War is over in my body. My heart doesn't beat for war anymore. My heart beats for peace from now on.'
"I am totally convinced that the best choice is peace, that hate must finish, and there must be reconciliation.
"We have total hope that in a short period of time there will be peace in Colombia. It all depends on all of us getting involved, and that the international community keeps helping us like it has been doing … that we sit down and talk like civilized human beings. … We can arrive to a totally different future in favor of humanity."
We also interview a guerrillera, a female FARC soldier. She is 22 years old and it surprises me how happy she is, full of energy. After her interview, she shows us around the camp.
It has been a special day and one thing is very clear: everyone here wants peace.
New camp were the guerrilleros will stay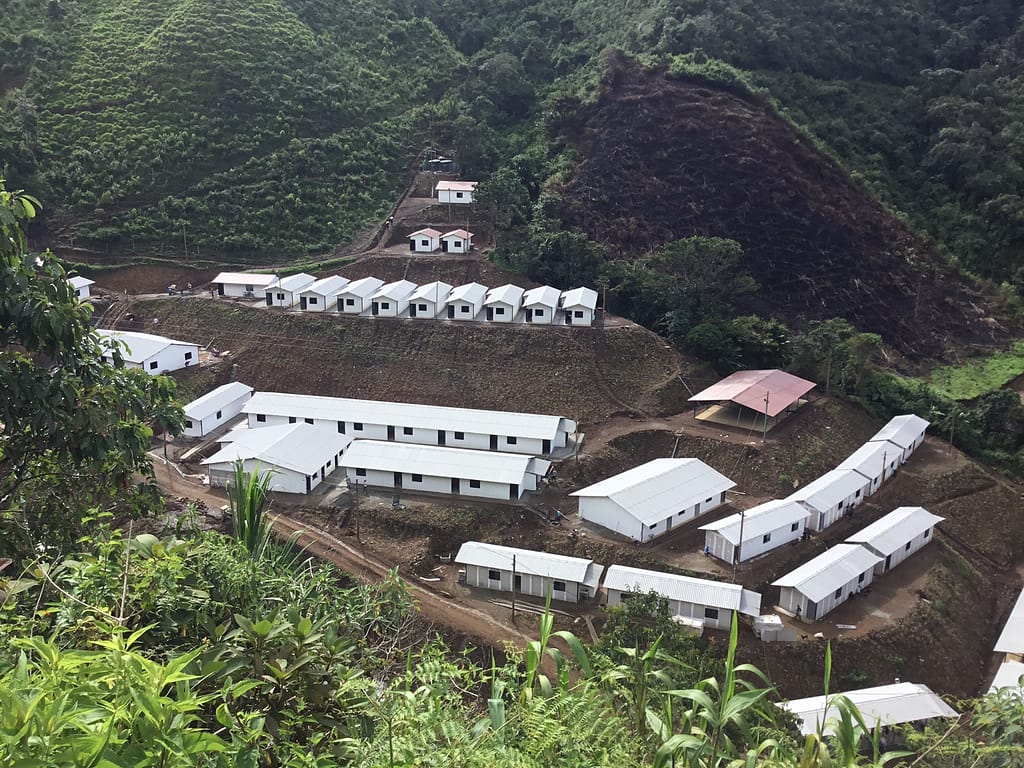 A view from the canyon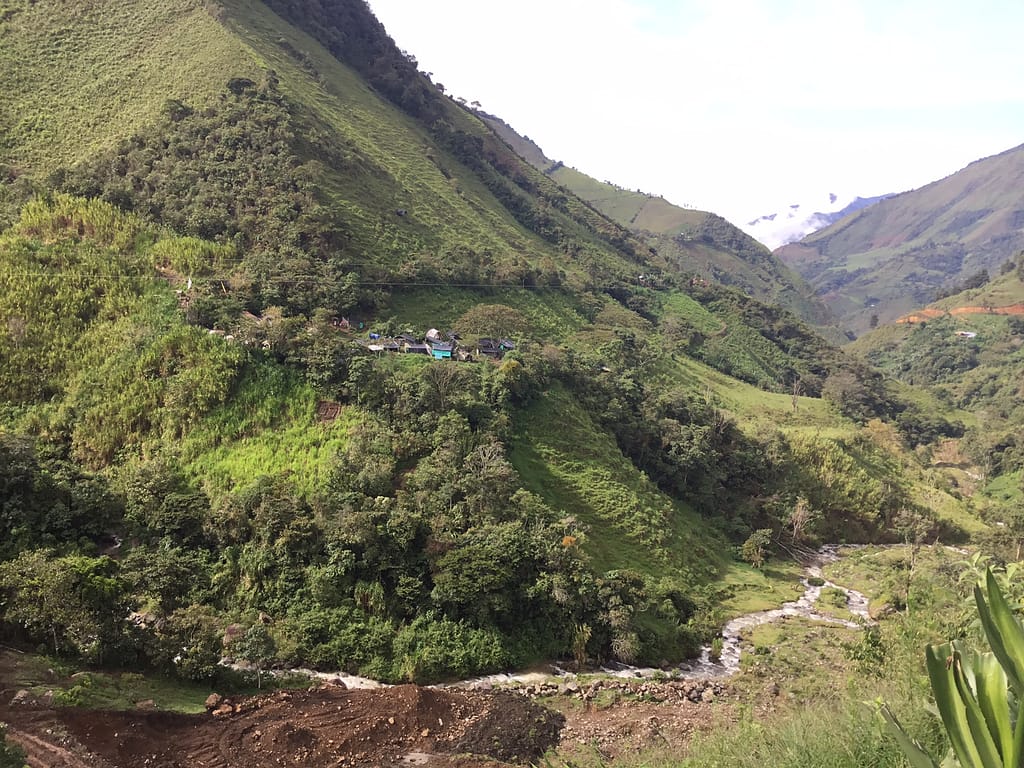 U.N. representatives
A child playing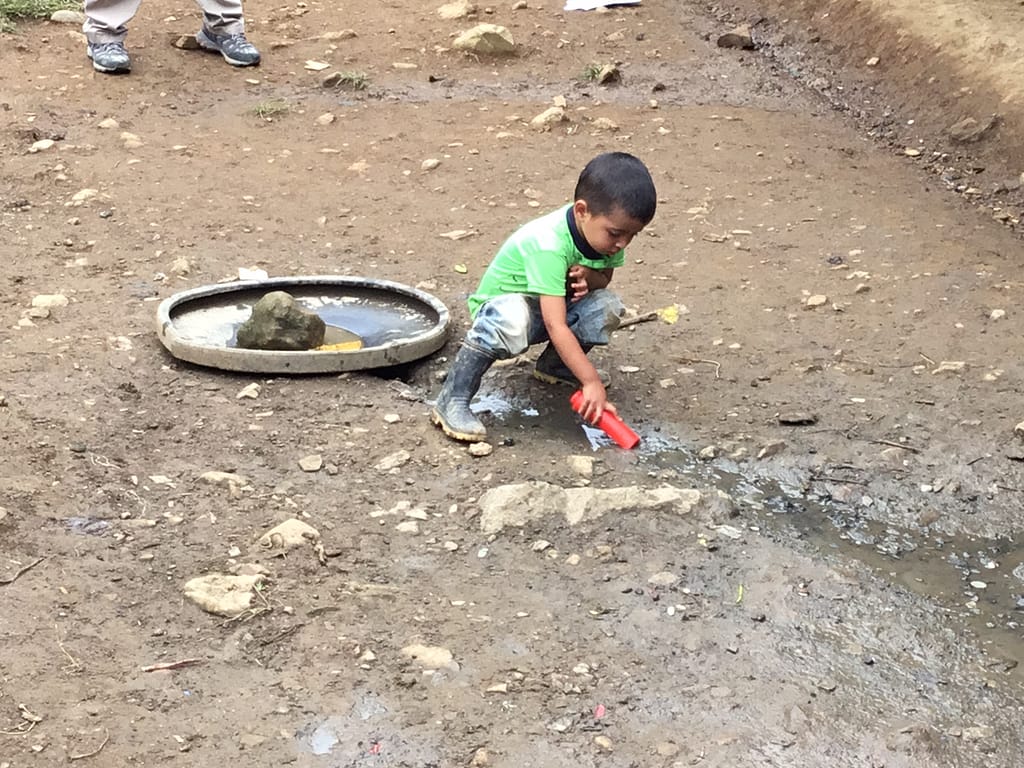 A family living in Santa Lucia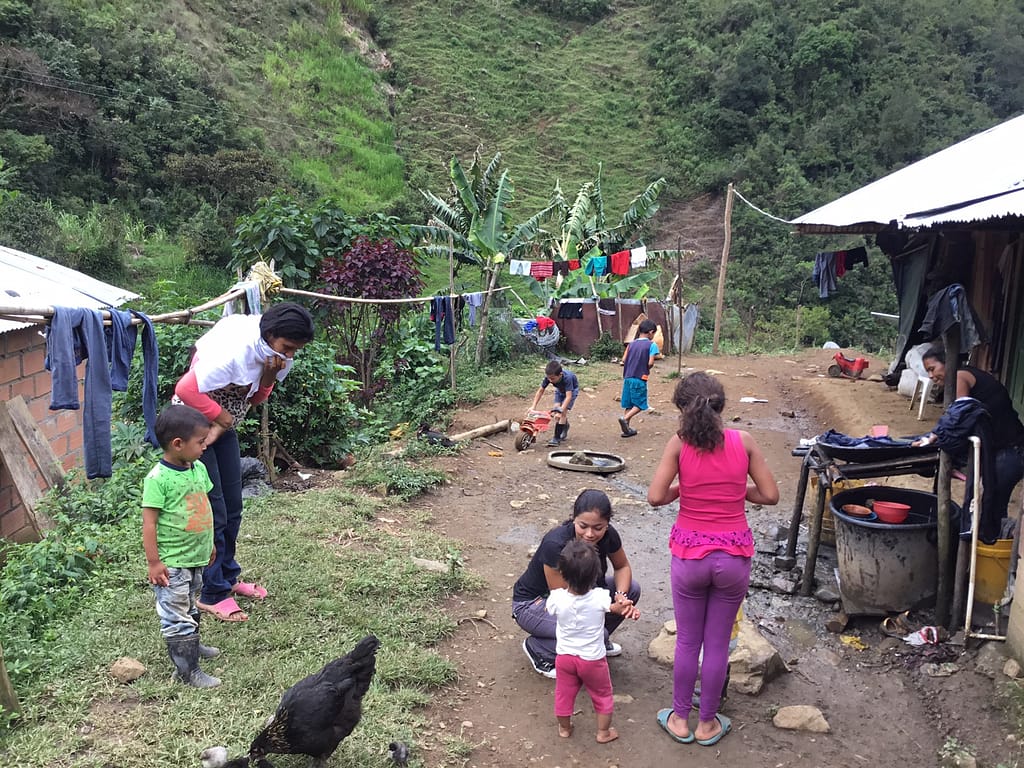 More tents of the guerrilleros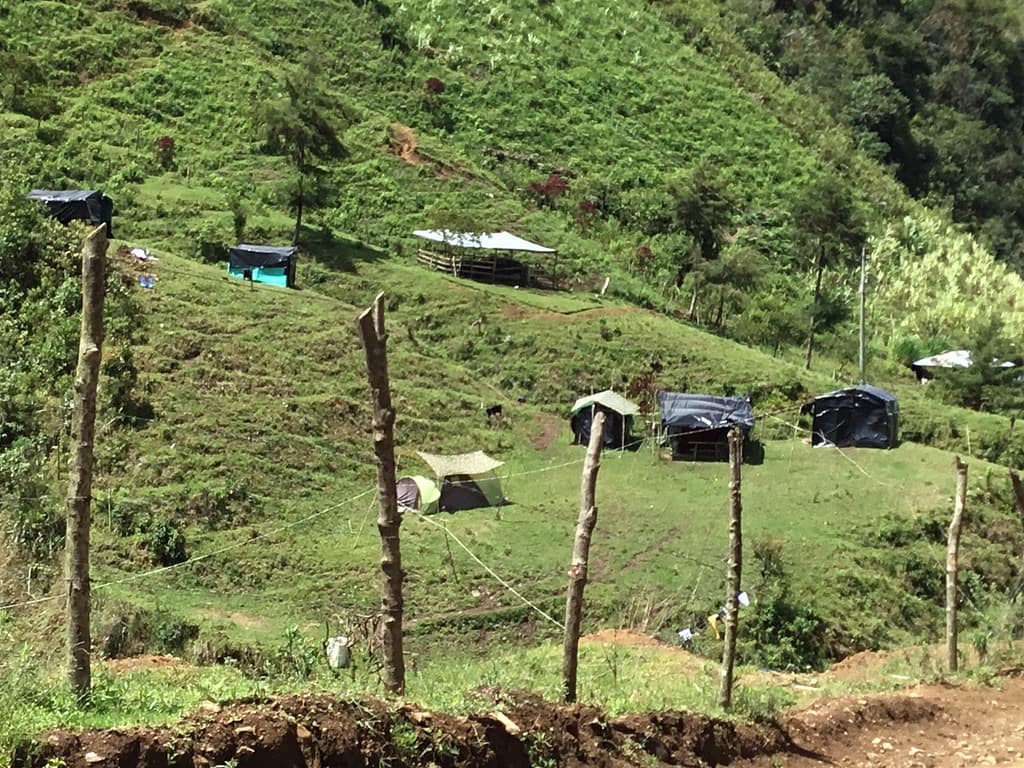 The "chiva" bus traveling back to Ituango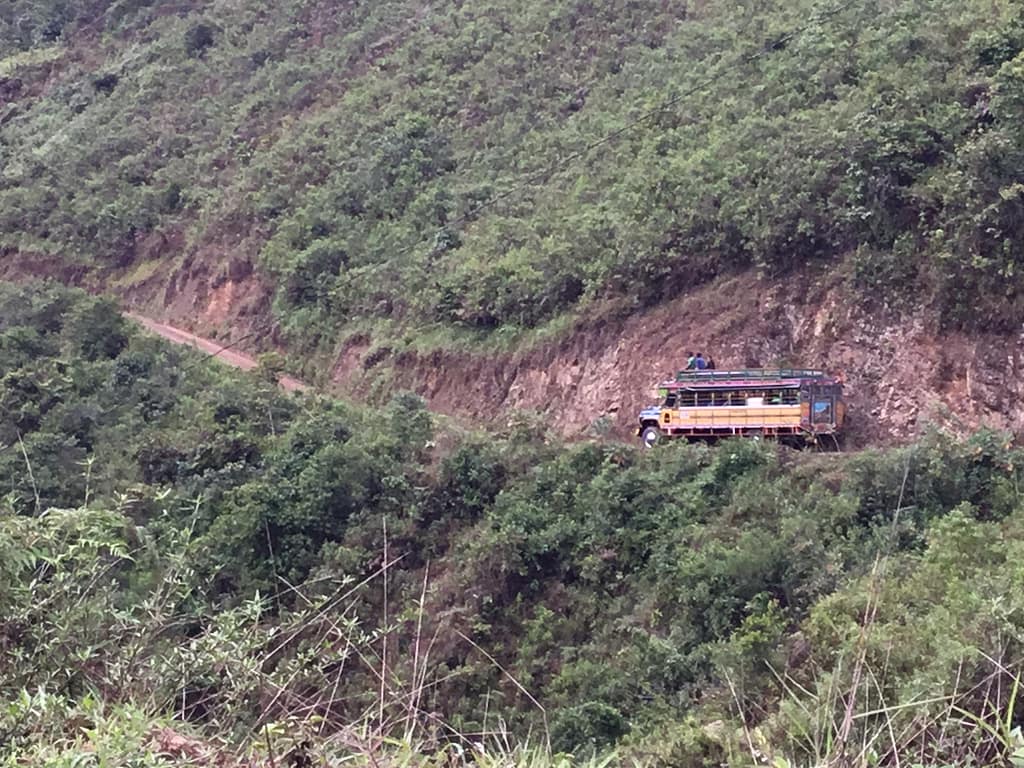 Read Marian's next blog entry about her experience in Colombia here.
Editor's note: TPRF is not in any way involved with the political peace process or negotiations in Colombia.