Marian Masoliver is a filmmaker who, along with Simon Edwards, is currently in Colombia to document the effect that the Peace Education Program (PEP) is having on ex-combatants, victims, and other groups impacted by the five-decade civil
war that is ending there. In this blog she shares thoughts on visiting the troubled mountainous village of Ituango.
After seven hours of traversing winding, slow roads with spectacular mountain views, we arrive at our destination late into the night.
Ituango is a village nestled in the lap of ridge tops in the mountainous region of Antioquia, deep in Colombia. Dark streets (electricity here is noticeably less present than in bigger cities) and rain meet us, the weary travelers.
At dawn this tiny village is already buzzing with life. Cowboys are riding their horses and endless trucks are whizzing by
carrying all sorts of materials. The "Jaidukama" indigenous people are roaming about in their traditional clothing, bringing incredible color to the village (they tell us it takes two walking days to travel between the village and their farms). Some take the "chiva" busses that go as far as the roads will take them into the wilderness before disembarking and making the rest of their journey by mule.
It all creates a powerful and rich tapestry of life, full of sound, color, and joy.
We spent four nights in Ituango. If I had not known about the area's tragic history, I would never have guessed. The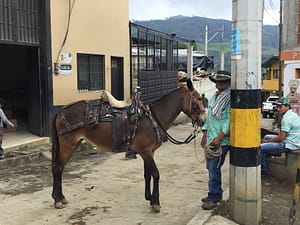 Ituanguinos are very kind, generous people.
But unlike some other parts of Colombia, this village has intimately experienced the cruelties of war. Because of its strategic location, it has been used and abused for decades by guerrilla and paramilitary groups, both fighting for power over cocaine production and drug trafficking.
Our small team from The Prem Rawat Foundation (TPRF) is here to facilitate the Peace Education Program (PEP) in the village school and document the impact it has on participants. The series of 10 multimedia PEP workshops, which are based on TPRF Founder Prem Rawat's talks on topics such as hope and peace, are offered as an intensive program over the course of three days.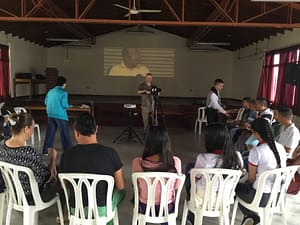 As filmmakers, we gather testimonials from the participants, learning about their lives as they go through the program. What they reveal about their past shocks us: the terrible realities they faced in war. Their thirst to recover from such traumatic times is so palpable.
Thankfully, it seems like the workshops help them develop a profound sense of inner strength that we hope will empower them to take a big step forward.
"What Prem Rawat is doing is an act of altruism. I would like to invite him to sit with victims and perpetuators," says a teacher. "We all need to hear his message. There is no "enemy" because it was our own friends and families that were involved. The war impacted all of us."
Mercedes, a 15-year-old student of his comments, "It was like I discovered another 'me.' For the first time in my life I felt peace and fulfillment. I have been looking for this for 12 years."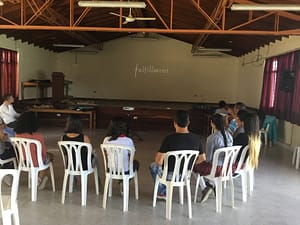 I am also blown away by the clarity and wisdom that three 16-year-old girls express during the interviews. "Peace is within us, and for peace to manifest in the community we first need to feel it as individuals," they say. "We need PEP for our families, for the community. We have all suffered too much."
We have the chance to interview the school director who tells us she thinks PEP can be a valuable tool for more teachers. "We've been alone without any help to heal. The teachers need help so they can teach well. Their mental and emotional health need attention," she says. "PEP was a big thing for us; it was wonderful. PEP can help a lot. We are experts on war, but we do not know enough about peace."
At night, the "rancheras" traditional music plays loudly in every tavern. The streets are full of young people, couples, kids, and families.
The only "disturbance" for us is the van that wakes us up every morning at 5 a.m. announcing on loud speakers the 5:30 Catholic Mass for the villagers. But it is also clear that faith has helped these people in dark times when there was nothing else to hold onto.
As we say goodbye, I feel the sadness of the people we met. They are so thirsty for peace. They express that they want to learn more from Prem Rawat.
The will of these people to prosper in the middle of such difficulty, to go forward in the pursuit of joy, even after experiencing the darkest times, has made a powerful impact on me.
Finally, the defenses of peace are being built here, and I am so humbled by this experience and the people of Ituango.
Read the next blog from Marian about her experience visiting a FARC camp here.
Editor's note: TPRF is not in any way involved with the political peace process or negotiations in Colombia.