During their February 2012 vacation in Southeast Asia, David and Debby Horsford are combining sightseeing with visits to areas where TPRF is helping people through its various partners. Debby is writing a diary and David is taking photos and videos of their journey.  While in Cambodia, the couple witnessed the transforming work of TPRF grantee the Cambodian Children's Fund.
Patrick, a wonderful fellow who has moved from Scotland to Cambodia to work with the Cambodian Children's Fund, picks us up at our hotel in the morning. He is a self-proclaimed introvert, buttoned up, non-smiling, ex-military man. Or so he says. It is difficult to imagine the picture he paints of himself. In this country, adoring swarms of children greet Patrick, and he is putty in their presence.
He takes us on a tour of six facilities. It is important to understand that the children here are not orphans. A few are, of course, but most have families or at least one living parent. The children we visit are from the families of people who were living around the dump outside of Phnom Penh. They are resourceful and industrious people. For example, a truck would pull into the dump to unload trash and they would dig through it to find food or materials they could salvage or sell. They are not apathetic or disempowered.
Nearly 700 children strong, CCF is thriving. The city dump is closed. A few children live on campus full time, some live on campus during the week and return to their families on the weekend, and the remainder live at home and attend school daily. TPRF has given grant money to provide nutritious meals for the most marginal of these children and their families. It is a joy to watch them at mealtimes. The breakfasts, lunches, and dinners served at all six facilities rotate by age groups.
We observe from the back of an open-air classroom the teacher announcing our arrival. Children, perhaps five years old, stand and sing a song they have memorized for class. They are learning to speak, read, and write English to best prepare them for the future. It is soon time for lunch, and the students are heading to the outdoor sink to wash their hands. Each child receives a generous portion of rice, broth, vegetables, and meat or fish. Patrick says they are growing like bamboo shoots. Most of the children arrive at CCF very stunted in height for their age with many health issues. They sit together at communal tables enjoying one another's company instead of having to fight over food. The children have formed relationships of trust with one another. Their smiles and laughter are proof.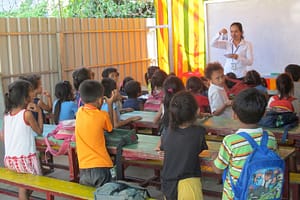 The benefit of nutritious food has surprised even the staff here. Over time, the children continue growing stronger and taller. As their immune systems improve, they are able to fight off common bacteria and viruses. The teachers say even their capacity to concentrate and study has increased. The children of all ages here share a common denominator. In the older children, we sense the appreciation of the incredible opportunity they have been given. They are enthusiastic about following their dreams of becoming teachers, nurses, and doctors. They are determined to go wherever their aspirations take them. I am convinced these children will become the face of change and betterment in Cambodia's future.
Jorani, a flourishing fourteen year old, has made it through a childhood that would be inconceivable to most of us in the West.  She comes to us and drags us over to see pictures on the wall of her accomplishments.  She is a straight-A student and loves science best of all.  Jorani's friend, Sovann, shows us pictures of a dance production he was in last year in Chiang Mai.  He is now able to pursue his studies and his passion.  The enthusiasm of these two friends is contagious.  It is incredible to see what a small amount of assistance can do to bring dignity and confidence to a human being.
Photos by CCF and David Horsford