During their vacation in Southeast Asia, David and Debby Horsford are combining sightseeing with visits to areas where TPRF is helping people through its various partners. Debby is writing a diary and David is taking photos and videos of their journey. In February, the Horsford's visited an ear clinic in Cambodia. With grants from TPRF, the clinic dug clean water wells. Debby writes:
February in Phnom Penh, Cambodia is one of the coolest, driest months of the year. Yet for us, stepping off the airplane was like stepping into an outdoor sauna. Rush hour traffic clogged the streets with tuk tuks, motorbikes, cars, and trucks. We arrive at our hotel relieved to be in air conditioning and spend the remainder of the evening confirming our appointments with the three non-government agencies we will be visiting this week.
Our first visit is with Glyn Vaughan, founder and director of All Ears Cambodia (AEC). TPRF granted funds to AEC to dig clean wells in two of the poorest provinces in Cambodia where Glyn's clinics are located. He is an amazing English doctor who began volunteering his services during his holidays in Southeast Asia. But as he became more aware of the acute need for ear care among poor people, and especially children throughout Cambodia, he left everything in England behind to begin clinics here. Now, seven years later, he has trained eight audiologists to serve the community.
The three facilities AEC operates, two in the rural countryside of Cambodia and one in Phnom Penh, are shining examples of the organization's ear care work. With very little money, these audiologists have created an environment of calm and beauty to reassure their anxious young patients. A curving line of small Buddha statues in the waiting room resembles the children waiting their turn. Wonderful posters of friendly animals, teaching the children about ear health adorn the walls. The technicians are gentle, caring professionals. The children we see today are all HIV positive, living in an orphanage.
Especially in the rural villages, where clean drinking water is not available, the new wells TPRF has funded provide a service not only to the clinics but to the whole community. One 10-year-old girl walked 15 miles with her baby brother on her back to the AEC clinic. Audiologists treated the little boy's ear infection with antibiotics and further check-ups were performed.
Statistics show that 60-65% of the children living in these rural areas suffer hearing loss. Glyn says much of this is due to the lack of clean water and the hygienic benefits of clean water. His goal is the prevention of hearing loss in young children. The little girl who brings her baby brother to the clinic helps him grow up to have a purposeful life.
Poor children and adults with hearing loss in Cambodia, whose lives are very difficult, are further marginalized as they are forced to do the most menial work and are not given any education.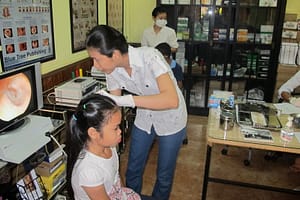 Glyn stressed over and over again the value of TPRF's role in providing clean water. His model of training ear health technicians and setting up clinics is working beautifully. But in order to continue this work in the more extremely impoverished areas of Cambodia, clean water is essential.
Photos by David Horsford