"When I go to work," says Flo, who recently completed the 10-week Peace Education Program (PEP), "I wake up really early and sit by the trash bin to wait for the bus. I'm down here looking up at the sky, and I'm happy. I'm content. That awe thing, that smile thing. I'm right there with him."
Flo is referring to Prem Rawat, whom she's come to know through PEP, listening to him speak about discovering an inner peace. "All my life," she says, "I've been this happy, hyper self, and everybody's trying to medicate me to settle me down. This man accepts me for who I am. He's the first person that lets me feel it's okay to be me."
Flo is a resident of Atlanta's Women's Transitional Center, where facilitators Stan Cohen, Jeff Camp, Valerie Hamilton, and Diane Loffmin recently began presenting the PEP course after nearly two years of back-to-back courses at the city's Men's Transitional Center.
Georgia Department of Corrections runs 13 transitional centers statewide—two of them for women. They serve as a bridge between prison and reintegration into society. Most residents live in the center for about six months, often working outside jobs as well as completing assignments contributing to the center's upkeep.
Particularly for "lifers" who have been in the prison system for decades, the idea of living in society again can be scary. "The outside world is actually scarier than in here," Flo confides. "I need to be sure of myself, of who I am."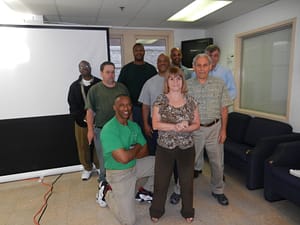 This is fairly common according to Bob, a graduate of the first course at the men's center who, facilitators say, has become the team's "go-to guy" inside. "In the back of our minds, we still question what we'll do when we are confronted with life on the outside," he says. "You never know how you're going to react. This class simplifies a lot of those things we take for granted— like clarity and hope."
"Bob is amazing," Valerie says. "He has set up a library of materials and organized an event for Peace Day. We gave him the Peacemakers CD (Jeremy Gilley in conversation with Prem Rawat) along with five-dozen doughnuts. He put up flyers, and 16 people showed up, one of whom is now attending the PEP sessions. He's also made a flyer for PEP classes to show to administrators."
At first, the women's center was a different experience for the PEP team. For one thing, it seemed much more regimented than the relatively relaxed atmosphere they were used to at the men's center. During the introductory session, attended by a few administrators, the residents seemed a bit intimidated. That changed once the course got underway.
"It was interesting," Stan says. "The men don't express what they're feeling that much, but the women are much more expressive. They were answering Prem Rawat as he spoke. When he asked, 'Why do you walk in shoes before you buy them?' several women replied, 'To see if they're comfortable!'"
"We feel a big connection with everybody who has been in our classes," says Jeff. "As facilitators, we become part of a group of people who are finding out about themselves. You forget that you are in a prison.
"When I can introduce someone to the message of Prem Rawat, it makes me realize what an incredible gift I have been given. You see first-hand that peace is definitely possible, and that it is inside of everyone. I am so grateful that I am witnessing the power of his message and what he is doing, and that makes me appreciate how much effort he makes."
Ultimately, six women completed all 10 PEP sessions. They came to the celebration where they received their certificates. Decked out in their best clothes, their faces lit up with joy and gratitude.