Prem Rawat recently spoke to students enrolled in the Peace Education Program (PEP) at TSiBA, an acclaimed nonprofit business school in Capetown, South Africa that specializes in giving disadvantaged youth opportunities to become entrepreneurial leaders.
Hundreds of students at the tertiary school have participated in PEP, an innovative multimedia course that's based on Prem's international talks about topics such as peace, hope, and appreciation. On Nov. 27 they had the opportunity to discuss what they were learning with him, ask him questions, and hear him speak at the school as part of its Annual Social Change Lecture series. Many students reported that PEP was having a profound impact on their lives.
"The program, more than anything, has brought me self-awareness and the knowledge that peace comes from within—not outside," said Mthetho Koyana. "I think I am now more peaceful-minded than before and can enter into a conflict situation and be able to calm the situation down. I can help bring about change and be the bigger man and fight for peace. Each and every one of us is the same regardless of backgrounds."
Amid a global discourse often dominated by discussions of violence and politics, another student found Prem's message of personal peace empowering. "One of the most important things I learned is that although everyone is always talking about world peace and war and what that means, Prem Rawat has made me think about my own personal involvement. As he says, 'peace starts with you,'" explained Monwabisi Mtshamba. "We, as individuals, have a part to play, and what is inside us manifests on the outside too. The tools I have learned in PEP have helped me be more content and appreciate other people."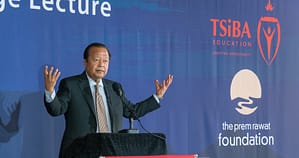 Designated by numerous leading international organizations as an "Ambassador of Peace," Prem Rawat has dedicated his life for the last five decades to addressing humanity's essential need for peace. During the apartheid era, he was blacklisted by the South African government for refusing to abide by rules that banned him from speaking to mixed-race audiences. In more recent years, he has regularly visited the country to speak to diverse groups, from troubled youth and prisoners to government leaders.
At TSiBA Prem encouraged students to listen to their own hearts and chart their own course in life rather than be unduly influenced by social and political pressures. "Some people think peace is, 'don't be angry — just do exactly what I tell you to do and we'll be in peace.' That's not peace. Peace is inside of you. Nurture it," he said. "In your life, don't go into the razzmatazz of thinking about what is fulfilling. Understand that fulfillment has to be felt. When you feel it and it is the real fulfillment, you will know. Do you enjoy being alive? Because if you don't enjoy being alive, something is wrong."
It was a message that resonated with Ndonwabile Ndengezi, a student who is preparing to graduate from TSiBA. "We grow up thinking that peace is something that exists somewhere in the world outside, which we need to find, but what we really need to achieve is internal peace. It's within all of us, which allows us to deal with any situation in a proper and humane way."
Prem Rawat's visit to South Africa also included meetings with renowned social rights activist Desmond Tutu and other leaders, PEP students, and prison officials who facilitate the PEP program for inmates.
Stay tuned to tprf.org for more updates from South Africa.