Stephen de Lorimier is an architect and long-distance runner from Montreal in Quebec, Canada. In this blog he shares his perspective on running marathons to raise money for The Prem Rawat Foundation (TPRF).
At 62 years of age, I am grateful to have a good job and to be in good health. I love exercising, and I used to swim a lot before taking up running about six years ago. Last winter I had the idea to turn my races into a fundraising project for TPRF.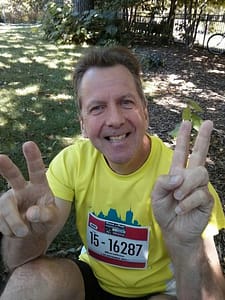 So now I'm running not only for the pleasure of it, but also for the joy of supporting a good cause. During the races I like being able to tell people that I am running to help other people. It's a way for me to express my appreciation for all I've learned from Prem Rawat, as well as support his foundation's efforts to help people live with dignity, peace, and prosperity.
Running becomes addictive. According to books I've read, the human body is made to run. Through the ages, our ancestors needed to run to survive and avoid predators, so some muscles evolved specifically for running. Our bodies evolved to allow us to breath deeply and stay concentrated. I enjoy the scenery, the sun, the wind. For me, running is almost like a kind of meditation.
Now I am more motivated than ever before to run more races, so I can raise more funds for TPRF. I've already participated in several races this year and there are lots more coming up that I'm excited about. It's an ongoing fundraising project.
In early May I ran the d'Argenteuil. It's actually an ultra-marathon, and most of the participants run it in teams of two to five members, so each individual only runs part of the full 100 km distance. I ran it with a friend of mine.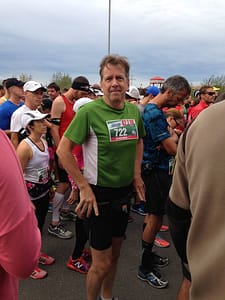 Later in May I ran the Marathon SSQ de Longueuil, covering the full 42.2 km in 4:40:12. In June I beat that time in the Laval Fireman's Marathon, running 42.2 km in 4:27:04.
On September 23 I'm planning to run the Marathon Oasis de Montreal, the largest running event in Quebec. And on October 21 I'm going to run the Marathon du P'tit Train du Nord. I'm also considering joining several others before the end of the year.
It's a challenge for me to spread the word so people know they can contribute and support TPRF in this way. I announced my project on Facebook and communicated to my friends through messages and emails. I very much appreciate everyone who donates!
Here is the link where people can show their support on my TPRF fundraising page.
Do you have a creative idea for how you'd like to have fun raising money for TPRF? Visit the this page for more information about how you can make your idea a reality.