When Sameer Kalarn found himself in Ghana for work this past summer, it wasn't the usual tourist spots he was interested in seeing. Instead, Kalarn, president of an organization that provides volunteer health services in rural communities, decided to pay a visit to the Food for People (FFP) facility in Otinibi on the outskirts of Accra. "Like everyone else, I've heard a lot about Food for People and the good work they've been doing," says Kalarn. "I figured I'd stop in and see for myself."
Picked up at his hotel by Kafui Esi-Adjei, manager of the FFP Ghana facility, which now serves 400 meals every weekday, Kalarn was quickly whisked off to the clean, gated facility with the words "Food for People" blazoned across its facade.
"Hygiene is key here," he r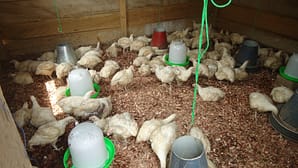 ecalls. "You can't enter the building without washing your hands and removing your shoes." Kafui arranged for a tour, which included the two large kitchens, the freezers, the new boilers, the staff living quarters under construction, and the main food serving area where all the hard work pays off. Then it was out to the chicken coop and organic garden that Kafui sees as the blueprint for the facility's self-sustainability. According to Kalarn, "Kafui was already planning a second coop in the hope that one day they wouldn't have to pay for eggs at all. It was clear—from her plans to expand the garden to adding a room to the kitchens—that the staff and volunteers at FFP in Ghana are definitely looking ahead."
Lunch that day was vegetable soup and a side of rice. Students were already lining up when Kalarn returned from his tour. Slowly, the children were let in, greeted at the door by a smiling member of the staff who handed each a piece of soap before leading them to the 8 sinks so they could properly wash their hands.
"The kids literally ran to the tables," Kalarn remembers. "They were happy and energized, talking and laughing as they ate." Portion sizes were decent and seconds were available for anyone who wanted. When they were done, the older children showed the younger ones how to wash their plates, which sink was for silverware, and which was for dishes. "Watching the kids take responsibility for cleaning their own dishes was inspiring to me."
Also inspiring for Kalarn is the way in which FFP incorporates the local community into its mission. "I was impressed with the way FFP empowers the Otinibi community. They grow the crops and run the facility. It's not just food for people. It's dignity for people. TPRF is clearly living up to its values."