Seenu Singh is a renowned pianist and budding painter living in Belgium. He recently started showing his support for The Prem Rawat Foundation (TPRF) by offering to donate a percentage of proceeds from his beautiful new series of watercolor roses. In this interview Seenu shares perspective on his art and why he's using it to support TPRF's Food for People program.
You are better known as a musician than a visual artist. What is your background as a painter, and how is your creative process different or similar when you are getting out your paintbrushes versus sitting at the piano?
I've always been interested in everything that's artistic. At six years old I started performing piano and have performed in many countries in Europe and Asia. I also used to draw detailed pencil drawings and always wanted to paint from a young age.
Whether I'm playing piano or painting, it puts me in the present moment. You have to have a set of rules, a structure, so that you know the shape and the form of the art you are creating. You have the basic framework in your mind, and then the painting will start developing and have its own nature.
You have to allow yourself to be free within those rules. It starts to grow from there and becomes something beautiful, and gets captured on the canvas. Inspiration flows through you, and that's the very beautiful way the flowers get done.
Why roses? Did you have an experience that inspired you to paint them?
We have a lot of roses in our garden. I'm surrounded by them when they start blooming in April. So, being surrounded by a whole garden that's filled with roses, I thought, "Hey, that's lovely."
The medium of watercolor is really nice because you can get the flow of the colors, the details of all the natural aspects of the roses and nature itself on paper. As I paint, I'm either looking at a rose or a photo of a rose.
With so many different charities out there that you could assist, what is it about TPRF that earned your support?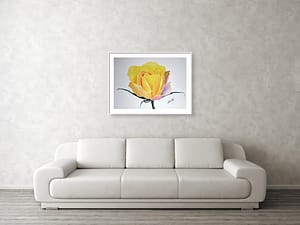 TPRF is making such a difference in so many lives. I'm particularly impressed with the Food for People program and that's where my donations from sales of the roses will go. If you look at all of the different Food for People centers in India, Ghana, and Nepal, you can see the difference they're making for people there, the children and adults who come out of the dining hall with smiles after having their meals.
The program is helping them fulfill their fundamental needs and improve their quality of life, and it's giving them a base to really grow. It's very, very important and it's really just so great.
On behalf of everyone at TPRF, we really appreciate the support. Thank you, Seenu.
That's very kind of you. Hopefully a lot of people will find these paintings inspiring. Hopefully they remind us of how beautiful nature can be.
Independent fundraising initiatives play a key role in making TPRF's work possible and the Independent Fundraising Team is available to help you bring your idea to fruition. For more information, guidelines, and support, visit the Fundraising & Awareness page.
Time-lapse video of a rose painted by Seenu Singh over several days: