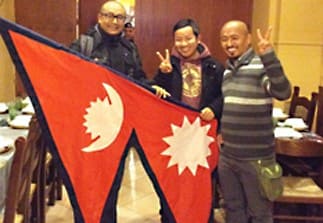 For three consecutive years, TPRF volunteers in Rome have been supporting Food for People (FFP) Nepal through fundraising events. In December 2013, they organized a cultural evening with the local Nepalese community in Rome, with the kind cooperation of the Association of Nepalese in Rome and its chairman, Dev Raj Gurung, and Chef Bidur.
The evening began with a short slideshow presenting the activities of TPRF, followed by a report of the Food for People center in Nepal, illustrated with photographs kindly provided by Bruce Keenan, President of the Himalayan Children's Charities (HCC). Mr. Keenan also has a special interest in TPRF's work in Nepal and visits the FFP center there each year.
An exhibition of watercolor paintings, donated by Nepalese artist Gurung Dhwoi, enhanced the fundraising effort, and a sum of 1,000 Euros was raised. With the average salary of an executive Nepalese amounting to around $200 a month, this donation represents a significant contribution in real terms for the project.
A surprise raffle prize of a round-trip plane ticket to Nepal was donated by the Italian Honorary Consul Paul Nugari, and was won by a young Nepalese living in Rome.
Says one of the organizers, "Over the last few years, through these fundraising initiatives, we have been able to get in touch with the community of Nepalese living in our country. We are very much committed to establishing a relationship of integration, trust, and appreciation for the work done by TPRF."