Kathryn Bright is a volunteer grant reviewer for TPRF. Kathryn's interest in one of TPRF's clean water grants inspired a recent visit to a small village in the Andean mountains of Ecuador, where she discovered an amazing story of cooperation, ingenuity, and initiative that has powerfully enhanced the lives of the people of Paragachi. Kathryn brings her eyewitness story to us with the help of her close friend, Paul Murtha, President of a local organization that played a vital role in the success of the "Water for Paragachi" project.
The Pan American Highway runs north and south through the Andean mountains of Ecuador. Forty miles from the Colombian border, we traverse high valleys with patch-work fields of a hundred hues of green interspersed with ethnic communities known for farming and artisan crafts. Turning off the Pan Am, we begin a two-mile climb towards the village of Paragachi. We pass groups of women washing mounds of clothes in an irrigation canal and shift lanes to maneuver around long swaths of bean plants spread drying on the road. Farm trucks will later drive back and forth over the plants, freeing the beans from their dried husks. A sharp left and we ascend the dusty road that is the back entrance to Paragachi, a community of 470 people–135 families–founded in 1976 by locals who initially poached on undeveloped land for ten years until they were granted ownership rights by default.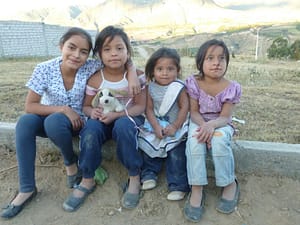 Following dirt lanes over the knoll where Paragachi residents have built their simple houses, we reach the concrete block home of Hernan, a community coordinator for Paragachi. His entire family and two excited dogs brightly greet us at their front gate. Each, including the youngest child, politely kisses us on the cheek. I am struck by the openness in their faces, their kindness and humility. I utter my recently learned Spanish greetings and quickly feel lifted by their surprising warmth. They invite us into their narrow kitchen. Hernan stirs corn fritters into a hot frying pan, filling the room with an appealing aroma.  A bunch of vividly colored greens bought from the local market provides a startling contrast to the barren, dry land around us.
As a volunteer grant reviewer for The Prem Rawat Foundation and a first-time visitor to South America, I was intrigued by a recent TPRF grant that supported a water irrigation project for Paragachi families. To learn more, I spoke with Paul Murtha, President of Fundación Montañas de Esperanza (MdE)–which in English means "Mountains of Hope." MdE is the non-profit organization that manages this project and has promoted model social service projects in northern Ecuador since 2007. MdE has also received two prior grants from TPRF, one that facilitated translation of Prem Rawat's message of peace into the Kichwa language, and the other that brought emergency food to flood victims along the Ecuador coast in 2008.
Paragachi has its own uniquely dry microclimate. Rain that blesses towns only a kilometer away usually stops short of Paragachi. Cacti as big as Volkswagens, some pines and a few tropical fruit trees are among the only native flora surviving here. For lack of irrigation water, the families have had little hope of growing food on their small plots of land, despite their longing to be self-sufficient.
40% of the town's working residents, including many youth, labor as farm hands–planting, weeding and harvesting produce throughout this agricultural region. At sunrise they crowd into open cattle trucks for the ride to the fields. Most women who work in the fields return home to cooking, laundry and taking care of the smaller children. Many children wait alone or with siblings for hours after school until their parents come home.
Paragachi has long been left out of the loop of social assistance. In 2010, MdE attempted to improve family nutrition through its Tierra Viva Project funded by a generous grant from The Vibrant Village Foundation.
That agricultural project supported 22 Paragachi families in creating Grow Biointensive® organic gardens, applying composting and moisture saving methods to enhance growing conditions in this challenging environment. But a subsequent intense dry season shattered hopes for improving nutrition. Some families were even fined for using precious drinking water to water their gardens.
Weeks later, in an emotionally charged town meeting, a potential solution was unexpectedly unearthed. Paragachi President Luis Angamarca spoke about the broken-down irrigation system that years before had served 20 families. Water had once arrived through canals and underground tubing from a river two miles up in the mountains. But the system had long since deteriorated. No one had considered the possibility of restoring it because they were so accustomed to being denied social assistance.
Paul Murtha offered the gathering of townspeople a viable plan that included potential funding resources. MdE and the Paragachi town council could solicit an engineering study from the Pimampiro County Municipality. If renovation of the system was feasible, a proposal would be presented to TPRF requesting funds to replace and enlarge the irrigation system to bring life-sustaining water to ALL Paragachi families. The plan was eagerly and unanimously accepted and a remarkable vision to "Green Paragachi" sprang to life.
The plan included families working together in "mingas," a community volunteer effort deeply embedded in the culture of Andean peoples. When TPRF accepted the "Water for Paragachi" project, 50 to 80 Paragachi residents of all ages began traveling every Saturday for two months into the highlands to dig out the dilapidated tubing and replace it with advanced, new pipes. The residents' enthusiasm inspired the Pimampiro Municipality to donate backhoes and equipment operators to install a comprehensive distribution system under the streets of Paragachi. Two old water storage tanks were also renovated and connected. The result: Precious water would now be delivered directly to 135 family gardens.
A renewed sense of hope and dignity pulsed through the people of Paragachi. Their community spirit soon attracted additional funding from regional NGO's that helped renovate the elementary school and the day care center. With further funding from The Vibrant Village Foundation, 74 families signed up (in eager anticipation of irrigation water) to begin creating their Tierra Viva Biointensive gardens. Families began to envision an abundant harvest with enough extra produce to sell at the market–maybe even enough to enable mothers to stay at home with their children rather than leave to work in the fields.
Clearly, this multi-collaborative effort uplifted the entire community. It created sustainable transformation and improved quality of life.
The overall program, now titled "Pueblo Vibrante," originated with the $15,860 grant from TPRF and successively blossomed into $61,464 in funding value for Paragachi. Under the auspices of the Vibrant Village Foundation, this comprehensive "Pueblo Vibrante" model is now being adopted by other communities in northern Ecuador.
On February 12, 2012, the community of Paragachi honored the arrival of their irrigation water with a festive inaugural celebration. As an expression of gratitude, TPRF's video "Peace, Dignity, Prosperity" was shown. Afterwards, a symbolic "opening of the valve" shot clean mountain water high into the air, misting the large gathering of residents and invited guests with its refreshing hope.
As if the Andean nature spirits wanted to join in the celebration, a rare rain began to fall. The youth of Paragachi danced in the resulting mud until the new dawn.
Two months later, a few Paragachi residents joined 36 Andean invitees traveling 10 hours by special tour bus to the coastal city of Guayaquil to hear Prem Rawat deliver his message of peace in person, a celebration of the heart as refreshing as the newly flowing waters for Paragachi.
My visit to Paragachi enhanced my appreciation of TPRF's grant-giving process. The "Water for Paragachi" project succeeded because of the renewed hope and community collaboration generated among the kind people of this simple village. Their joy in finally receiving long-awaited assistance left an indelible impression on me. I look forward to someday returning to a greener Paragachi, perhaps celebrating with freshly harvested greens from a family's thriving garden.
Photos by Paul Murtha and L. Michael Adams