Ivete Belfort is from Sao Paulo, Brazil, where she graduated as a business administrator with a master's degree in Communication from Getulio Vargas Fundation. For the past few years, she's been a dedicated volunteer for TPRF and Words of Peace Global. She is also a counselor for several peace and human rights organizations. Ivete has played a leading role in developing the Peace Education Program in Brazil.  
Five years ago our team in São Paulo, Brazil, started to show Prem Rawat's videos in prisons. In 2013 we began working with the Peace Education Program (PEP). This year in May at one of the prisons, Brazilian authorities attended a PEP presentation with the inmates. One of the inmates expressed that due to PEP, she now knows what real freedom is.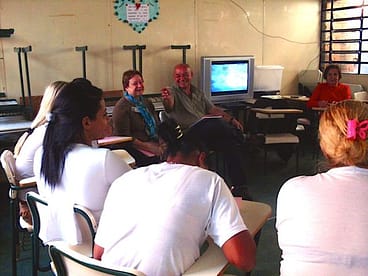 Because of the success of PEP in prisons, São Paulo's Secretary of Justice asked us to present PEP to their employees and to audiences at their civic centers. So we started to go to poor areas far from downtown. At the civic centers we met people who had no cable TV and had never heard Prem Rawat speak. Some of them never thought that peace was possible in their lives.
Due to the positive reception of PEP by São Paulo state government officials, we were invited to start a PEP at São Paulo City Hall. The Coordinator of Peace at City Hall, Nadime Boueri Netto Costa, recently wrote:
"I really enjoyed watching videos of Prem Rawat's addresses. Ever since I first came in contact with his wise words in the PEP course, which was under my supervision as coordinator of UMAPAZ (Open University for Environment and Culture of Peace) at the City Hall, he has been a silent mentor in my life.
"I'll never forget his teachings and consider him a great and timely messenger on new attitudes toward the personal lives of all those who have the privilege to hear and understand such a message. His simplicity, in contrast with the complexity of modern life, is the essence of a path that can lead any human being toward long-awaited peace."
With a focus on peace, we are also doing work in non-governmental organizations.
When we needed more facilitators, we started PEP classes at UNIPAZ—the International University of Peace. The results were fantastic. The president of UNIPAZ of São Paulo, Nelma Sá, and one of the faculty members, Nadime Boueri Netto Costa, now want to facilitate a PEP course themselves.
We currently have 18 approved PEP projects in São Paulo alone. Since 2013, we've had from three to seven Peace Education Programs every week in the city:
–          1 Headquarters of the Secretary of Justice
–          6 Civic Centers of the Secretary of Justice
–          1 University: UNIPAZ (International University of Peace)
–          2 Prisons
–          2 City Halls: São Paulo and Rio Claro
–          2 Companies
–          1 School of Arts: Laban Institute
–          1 NGO of the Social Secretary: Maia Center
–          1 NGO at Cultural Center of the Consulate of India: Ecos da Paz
–          1 Rehab Clinic
It doesn't matter where PEP is held; participants who attend are transformed. Their reactions to it are never the same. But whether they are policemen, prisoners, employees, victims of violence, or former addicts, by the end, they all feel one thing: gratitude.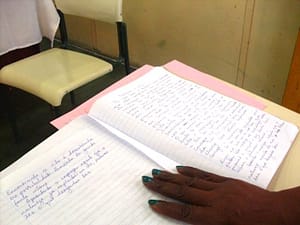 There are also PEPs in Rio de Janeiro, Brasilia, Goiás, Fortaleza, and other areas throughout Brazil. I hope that the demand of the public continues to grow because we all enjoy PEP very much. New Peace Education Programs are continually starting and ending, again and again, thanks to our incredible team of facilitators and their assistants, TPRF support, and Prem Rawat.