In 2014 Abigail Awadu graduated from Otinibi Junior High School in Ghana at the top of her class, earning a government scholarship to attend Teshie Presbyterian High School this year. In Otinibi, Abigail regularly ate meals at The Prem Rawat Foundation's (TPRF) Food for People facility, which she credits for helping give her the energy and time she needed to study. Only 60 percent of students in Ghana earn test scores high enough to qualify for enrollment in high school. And although she still faces many challenges living with her sister in a new home about 30 miles away in Teshie, the 18-year-old is grateful to be continuing her education and is working hard to realize her dream of becoming a doctor.
Alex Wiredu, a TPRF correspondent, recently visited Abigail in Teshie to ask about the changes in her life, her hardships and hopes. Here are excerpts from their conversation.
How did the Food for People facility impact your life?
Before Prem Rawat established the Food for People facility, I had never dreamt of getting such a good grade on the Basic Education Certificate Examination, because it was difficult to concentrate in class without food. He is a light in my life right now, because I wouldn't have made it this far without him. I was able to concentrate better in class because I had peace of mind knowing that I would eat at least once a day before sleeping.
What inspired you to work hard at school?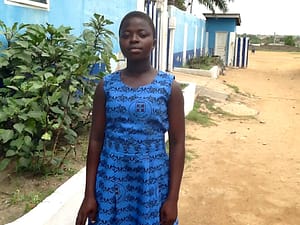 I had to work hard because it is my dream to be a medical doctor, and I know it requires really hard work. So I can't relax.
What was the hardest part about growing up in Otinibi?
The hardest part about growing up in Otinibi was going to the gravel pit–a place where stones are cracked manually–as I had to help my mom to get money for my upkeep in school. [Editor's note: It is common for Otinibi residents to earn money at a large local quarry by breaking up rocks that are then used to build houses and roads.]
What was the best thing about growing up in Otinibi?
The only thing that could make me smile while growing up in Otinibi was the fact that I wasn't alone. I had friends with whom I'd usually go to the gravel pit. We would play on the way, and that made me happy.
How does your new school and home compare to your old school and home in Otinibi?
My new school is very different. The distance from my house to school now is further than from my house to school in Otinibi. I prefer it here to Otinibi though, because I have access to almost all the textbooks my courses require. Also, back in Otinibi, I didn't have light at home so learning was difficult, but now I go back home and I'm able to study for class. My block home here at Teshie is also better, since I used to live in a mud hut in Otinibi.
How does the food now compare to what you got from Food for People?
At Food for People there was a nice variety of dishes and the food was always balanced with fish, meat or eggs. The food was much more delicious than what I get here.
Is there a favorite dish you miss?
Yes, I really miss yam with vegetable stew, and I loved the "gariba" with okra stew as well.
What has surprised you most about your new home?
What I never imagined was how different it would be to be taken care of by my big sister instead of my mom. It is nothing compared to how my mom used to love and care for me.
What is the hardest thing about living in a new place?
I have to walk a very long distance to get to school. This makes me miss some of the early morning lessons. I walk because I don't have money for transportation.
Do you miss your friends and family?
I really do, especially my mom, my elder sister, and a very good friend of mine, Georgina Atta Frimpong.
How do you deal with stress?
Most of the time, I cry.
Have you made new friends here?
I have. Estelle and Grace have been the most supportive and encouraging friends I've ever had.
What's your favorite class? What's your least favorite class and why?
My favorite class is the chemistry class, because my teacher, Madam Vanesse, constantly encourages me to study hard. The physics class is my least favorite because it requires a lot of research and I don't have all the books I need to study, which makes it harder compared to my other classes. [Editor's note: Abigail's government scholarship covers the cost of tuition but not textbooks.]
What do you want to do after you graduate from school? What are your career ambitions?
I would love to go to a university after here, to be able to pursue my dream of becoming a medical doctor.
What do you do for fun when you're not at school?
I enjoy reading storybooks and solving mathematical equations.