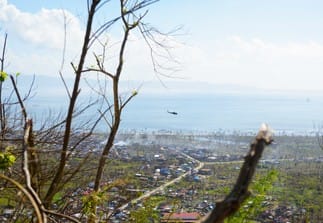 AmeriCares and Mercy Corps provide both emergency and long-term recovery services
Thanks to a rapid and generous response from our donors, TPRF was able to make two grants of $50,000 each to support relief efforts in The Philippines in the wake of Typhoon Haiyan, which claimed more than 6,100 lives, displaced 4.1 million people, and damaged 1.14 million houses, half of which were completely destroyed.
An estimated 15 million people were affected by the typhoon; the government reports full reconstruction efforts will cost around $8 billion over the next four years.
The grants were awarded to two of TPRF's long-time partners, AmeriCares and Mercy Corps. AmeriCares is focusing on immediate medical needs in the hardest hit areas, followed by long-term programs for the promotion of improved health and disaster preparedness. Mercy Corps' efforts have focused on meeting survivors' basic needs, such as food and clean water, while at the same time laying the groundwork for longer-term recovery, including the financial health of those most vulnerable.
Typhoon Haiyan tore across the island nation on the morning of Nov. 8, 2013, with sustained winds estimated at 150 mph, wind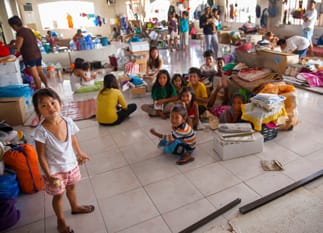 gusts in excess of 200 mph, and a 15-foot storm surge. It was one of the deadliest storms on record, affecting about 14% of the total population.
Estelita, a 72-year-old woman in Tabok, Ponteveda, suffered a puncture wound in her foot in her struggle through chest-high water. The swirling waters were too dark for her to see what she'd stepped on. When the wound became infected, Estelita went to her local Rural Health Unit, where she was given some antibiotics. But supplies were low, and she was only given enough for a partial course of treatment, with instructions to buy the rest—something she had no means to do, since she and her husband, William, had lost everything they owned.
A few days later, she returned to the clinic in great pain, her foot swollen with infection. By that time, the clinic was also out of the more powerful antibiotic she needed. Estelita was fortunate to arrive on the same day as a delivery of an AmeriCares Emergency Primary Care kit, which contained several course treatments of the stronger antibiotic.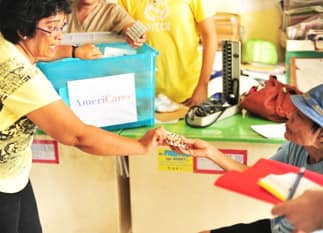 In Palo, a small city in Lyte province, 21-year-old Flor Tugedo's house was destroyed. She and her family, which includes two small children, moved to a crowded evacuation center where food and water were in short supply, and there were no toilets or bathing facilities. Mercy Corps was able to reach the remote evacuation center with food and hygiene kits.
TPRF has partnered with both these nonprofits often, joining with AmeriCares to support a recovery program for displaced Japanese, a water purification project in Ethiopia, and two emergency response efforts in post-earthquake Haiti. Partnerships with Mercy Corps have funded cholera relief in Haiti, earthquake relief in Japan, and hunger relief in the Horn of Africa.
"Thank you for partnering with Mercy Corps to make a positive, lasting difference in the world today," wrote Mark Ferdig, Senior Team Leader for Mercy Corps' Philippines Emergency Response, noting that TPRF's contribution is helping survivors in the Philippines meet their basic needs and lay the foundation for a successful recovery.
"Our aid has reached some of the most devastated areas," said Cornelia Brefka, AmeriCares associate director of institutional relations.
Getting The Philippines back on its feet will take long-term assistance, and TPRF, which matched the first $50 thousand received,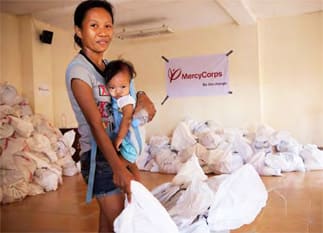 continues to accept donations earmarked specifically for this effort. Another grant will be made soon, most likely to a local NGO in the Philippines.
photos from AmeriCares: courtesy of AmeriCares: photo 3
photos from Mercy Corps: courtesy of Mercy Corps: photo 1,2,4