Invited by correctional officials who are impressed by how the Peace Education Program (PEP) is helping rehabilitate inmates and improve behavior, Prem Rawat recently spoke to participants at correctional facilities in California and Florida to inspire them to make better choices in life.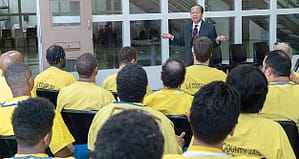 Founder of The Prem Rawat Foundation (TPRF), a best-selling author, and a renowned "Ambassador of Peace," Rawat developed the innovative multimedia program to help participants live with a strengthened sense of hope, clarity and peace. Each workshop features videos of Rawat's international talks on topics such as dignity and contentment, and at the recent live events he expanded on those themes and answered questions from inmates.
The Twin Towers Correctional Facility in Los Angeles, California, where Rawat spoke to 35 inmates on July 26, is the largest jail and mental health facility in the world. Hundreds of inmates have benefited since volunteers started offering PEP there three years ago, reporting a range of positive outcomes, from a reduction in violence to improved family relationships.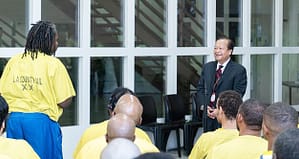 "It focuses the individual on looking at their inner resources," says Sally Weaver, a volunteer who oversees PEP at Twin Towers. "It really gives them a chance to look within themselves, reflect and make better choices."
KCAL TV, a popular CBS affiliate in Los Angeles, has highlighted the success of the program. And "Inside Peace," an award-winning documentary film about the transformative impact of peace education on Texas inmates, continues to air on PBS stations across the U.S.
PEP has also won praise from officials at Metro-West Detention Center in Miami, Florida, where Rawat spoke on August 13 to a group of 60 inmates participating in the program. PEP has affected hundreds of inmates there since volunteers started offering it in 2014, with many saying the program made a profound difference in their lives.
"I had so much anger when I first started coming here. Now I am relaxed. I have peace," said one participant at Metro-West.
Several inmates attending the meeting with Rawat at Metro-West thanked him personally for the impact his message has had on them. "Your message resonates in my heart. I am discovering my power, my love, my nature, my peace, my joy, my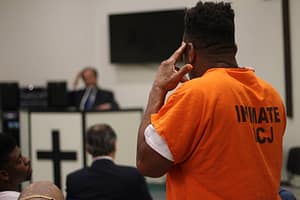 artistry," said one attendee. "Your message saved my life, future and identity. It has given me a firm grasp on peace," said another.
The perspectives of U.S. participants in Los Angeles and Miami mirror those of thousands of others in the 83 countries where PEP has been offered. The program has been authorized in all South African correctional facilities, and was recently praised by prison officials in Queensland, Australia for reducing violence.
Rawat and TPRF have also been working around the world to make the course available to at-risk populations to help them avoid making the kinds of decisions that land them in jails in the first place. In response to a rise in violent gang crime in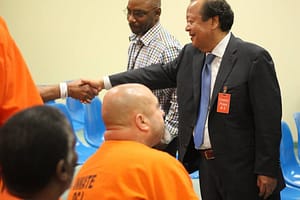 London, England this summer, Rawat announced an effort to partner with community centers, schools and clubs to make PEP widely available to youth. In Colombia, government officials are in the process of rolling out PEP at more than 500 public schools to help heal the country from decades of civil war.
Designed to benefit people from all backgrounds, religions and cultures, PEP has also been embraced by a wide variety of organizations outside of correctional systems and disadvantaged populations, from businesses and universities to police and veterans groups.
Photos at Metro-West (the bottom three) are courtesy of Miami-Dade Corrections and Rehabilitation.