Prem Rawat is offering uplifting daily messages that are bringing hope to hundreds of thousands of people as they deal with the stress and uncertainties caused by the COVID-19 pandemic. 
In each "Lockdown" video, he addresses the topics of the day with clarity, common sense, and humor, often using entertaining stories to illustrate his points. He also responds to the comments and questions people send him. And during a recent episode, "Day 14," he focused on the expressions and questions he has received from incarcerated individuals across the globe who have been participating in the Peace Education Program.
The Peace Education Program is an innovative series of workshops that help people discover their own inner strength and personal peace. Through the nonprofit he started, The Prem Rawat Foundation (TPRF), Prem has made the program available to a wide variety of groups free of charge, including thousands of people at correctional facilities around the world. 
Many of those participants write Prem letters expressing appreciation for the workshops, and it was clear from the comments Prem shared in the "Lockdown" broadcast that the program helps many feel empowered and hopeful, even behind bars. With so many viewers now experiencing the hardships of stay-at-home orders, the segment helped spark an inspiring understanding that if personal peace is possible for prisoners, it can certainly be possible in other difficult situations such as these.
"The peace class was such an eye-opener. I really like learning about inner wealth and being content, no matter what the circumstances," said an inmate at a North Carolina correctional facility, as relayed by Prem in the broadcast.
"I learned from the Peace Education Program that I have peace and the power to make my own destiny," said another.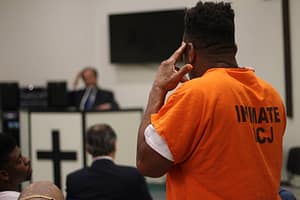 "I attended the Peace Education Program and it has influenced me to do many good things in my life. I found peace deep inside. It might be a small seed but it is so beneficial. When I started to take care of the seed of peace, it started influencing my everyday life. I can express it as love or as a hug because this is the way that it makes me feel inside," said an inmate who participated in the program at a correctional facility in Greece. "Every day I feel full from all I have been taught in this program and wish everyone could be influenced by peace. I now wake up with joy and gratitude for everything." 
In his response, Prem noted, "These are people that have been in lockdown, are in lockdown. And, you know, maybe soon this coronavirus thing will be over and we'll be out and about, moving—but these people will still be in lockdown. And how important it is for them to feel peace. … and for you to feel peace. … Peace needs to be in everyone's life."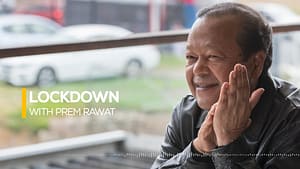 Watch "Day 14" of the "Lockdown" series here to see the session highlighting the Peace Education Program, or watch the entire series as it unfolds here.
Learn more about the Peace Education Program here.