The Prem Rawat Foundation's (TPRF) signature Food for People (FFP) program continues to expand, feeding nutritious meals to malnourished children and empowering disadvantaged communities to emerge from the cycle of poverty.
Since TPRF opened its first FFP facility in 2006, the program has provided a total of more than 2.3 million healthy meals to children and elderly adults in poverty-stricken areas of India, Ghana and Nepal. In 2018 alone, FFP grew by 12 percent, distributing 479,221 nourishing meals to people in need.
The program has been transforming the communities it serves in numerous ways. Health has improved, school enrollment and achievement have skyrocketed, crime has dropped, and local economies have started to bloom.
Kenneth Odjamgba, a beneficiary of FFP in Ghana, credits the model program with empowering him to be the first student from the town of Otinibi to ever pursue a university education. "Without the support of Food For People, I would have dropped out of school some time ago," he says.
Government officials and community leaders are thrilled with the results. "I think this is one of the best facilities I've seen," says the Honorable Abubakar Saddique Boniface, Minister for lnner City Development and a Member of Parliament in Ghana. "I can see that the kids are well satisfied. I believe this is something future schools should emulate."
The Nepal facility, high in the rugged mountains of Dhading, will celebrate its tenth year of operations this spring. In that time, TPRF has expanded the program to include computer labs and trainings in surrounding schools, water infrastructure projects, emergency relief and sustainable agricultural trainings.
Donors from across the world contribute to the grassroots FFP program, and it thrives because of the strong local support and partnerships it receives where the cooking facilities are located.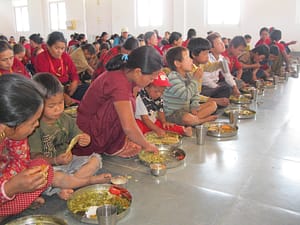 Prem Dhungel, vice president of the Premsagar Foundation Nepal, a key partner, has witnessed the program in Dhading give countless disadvantaged people a newfound sense of hope and self-sufficiency. "They are now able to live their lives with self-respect. This program has helped the children, the elders and everyone in the villages," he says.
Food for People is just one of the initiatives that The Prem Rawat Foundation takes across the globe to help fulfill its mission of addressing the fundamental human needs of food, water and peace so that people can live with dignity, peace and prosperity.