Thanks to the generous support of donors from across the world, The Prem Rawat Foundation (TPRF) has been able to provide $160,000 in humanitarian aid for earthquake victims in Morocco.
On September 8, a strong 6.8 magnitude quake struck the North African country, leaving villages in the Atlas Mountains near the city of Marrakesh in rubble. TPRF aid is helping survivors in this devastated region with food, water, shelter, medications and other emergency supplies.
"It's difficult to comprehend the devastation this earthquake caused, and our hearts go out to all those who are suffering from this disaster," says Linda Pascotto, TPRF Board Chair. "Thanks to all of you who donated to TPRF to support this humanitarian effort. You are giving people a helping hand when they need it the most."
To deliver the aid, TPRF has given grants to three other nonprofit organizations who are in strong positions on the ground to help people who need it the most.
A grant of $60,000 to the local Abdelhadi Tazi Foundation (A.T. Foundation) will be used to provide direct financial support to approximately 50 of the poorest families in the Ourika region who are most impacted by the earthquake. Many of these families lost their homes and belongings, are unable to work due to injury, and will need the aid to survive the approaching winter. Monthly grants to each family of approximately $200 for the next six months will be designated for water, food, blankets, gas stoves, medications and other necessities.
"We have been deeply touched by the fact that TPRF was the very first organization to offer its assistance, calling us within hours of the devastating earthquake. We are very grateful to TPRF and all the donors around the world for their support," says Y.Tazi, President of A.T. Foundation. "The donations received will support the economic recovery of the most vulnerable and assist them in overcoming the harsh winter conditions. While material support is important, knowing that they are not alone and that others care gives the victims of the earthquake hope, providing them with the mental strength to overcome their difficulties, which is just as important." 
A grant of $50,000 to World Central Kitchen will help fund two food kitchens to nourish survivors in the towns of Asni and Oulad Berhi, as well as help provide food kits to rural families who do not have access to the community kitchens.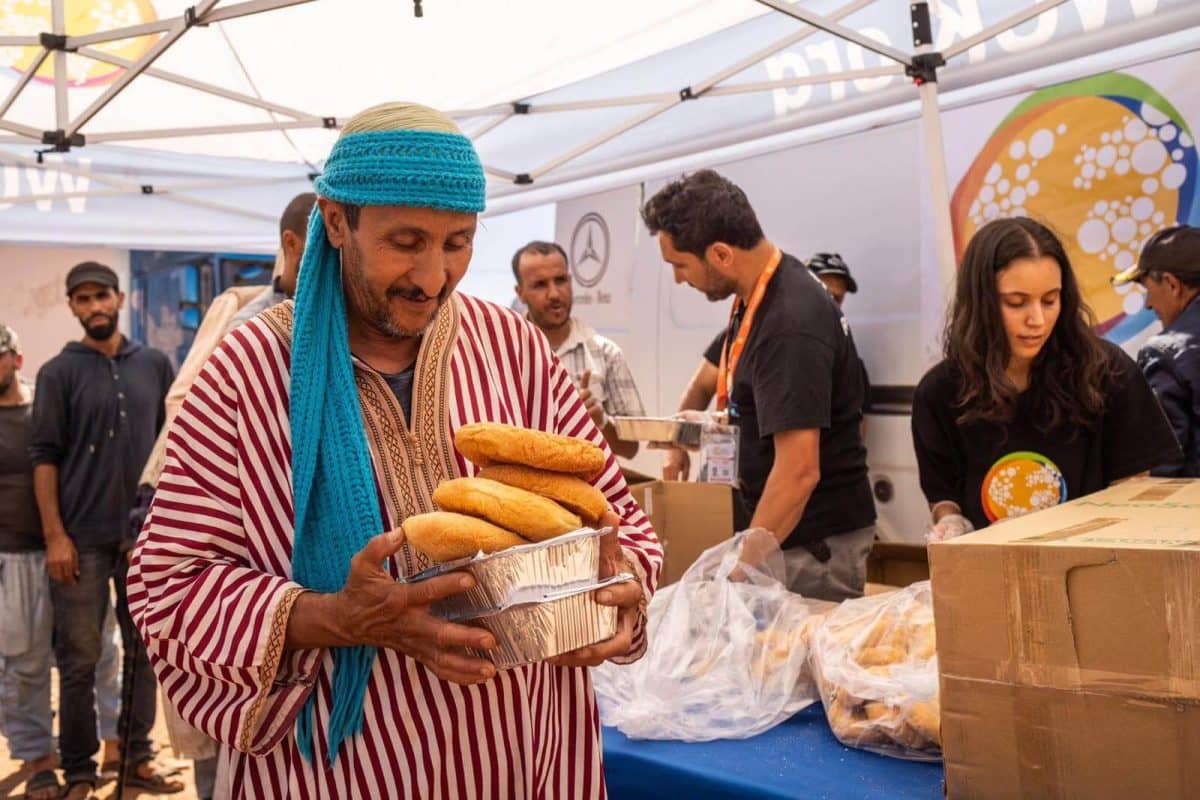 Photos courtesy of World Central Kitchen
A grant of $50,000 to CESVI will provide further emergency supplies and psychosocial support to people in need in a variety of other mountainous communities. 
"Thanks to the generous support of TPRF, which has once again chosen to be by our side, we at CESVI will be able to provide support to the most vulnerable people affected by the tremendous earthquake in Morocco," says Roberto Vignola, Deputy General Manager and Head of Communication and Fundraising Unit of CESVI. "We will distribute cooking sets, hygiene and dignity kits, and mental health and psychosocial support to address the trauma and ensure the well-being of affected individuals. Additionally, we will provide children with a safe and inclusive environment with recreational activities, support their education and development, increase their resilience, and bring a sense of stability and continuity back into their lives."
Addressing Needs Beyond the Morocco Earthquake
Since Prem Rawat founded TPRF in 2001, it has given over 175 grants totaling over $6 million to a variety of partner NGOs in 47 countries to help victims of natural disasters, COVID-19, war and other tragedies.
The humanitarian grants are just one of the ways that TPRF fulfills its mission of addressing fundamental human needs and advancing dignity, peace and prosperity across the globe.
TPRF's Food for People program has provided over 5.7 million nutritious meals, clean water and educational opportunities to underserved children and elderly adults in India, Nepal and Ghana.
TPRF also offers the Peace Education Program, an innovative series of video-based workshops that have helped over 385,000 people in 80 countries discover their own inner strength, hope and peace.
Registered as a U.S.-based 501(c)(3) tax-exempt nonprofit organization, TPRF has earned the highest rankings from independent evaluators such as Charity Navigator and GuideStar for financial responsibility, transparency and accountability.
Watch this video to learn more about Prem Rawat's approach to humanitarian aid: