Photos courtesy of World Central Kitchen
Thanks to the generous support of donors from across the world, The Prem Rawat Foundation (TPRF) has been able to provide $375,000 in humanitarian aid for earthquake victims in Turkey and Syria.
On February 6, a pair of strong earthquakes left millions of people in these two countries in need of food, shelter, medical care and other necessities. TPRF aid is helping address these needs through partnerships with three other nonprofit organizations who are in strong positions on the ground to help people who need it the most.
TPRF gave a grant of $125,000 to CESVI to provide tents, blankets, psychosocial support and other necessary aid.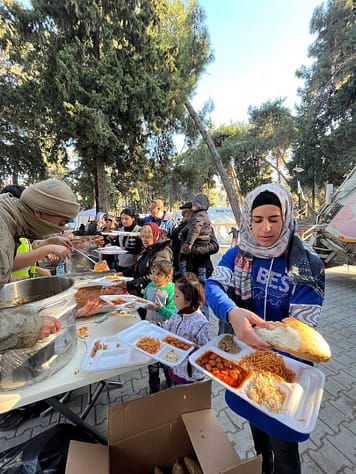 "We at CESVI are deeply grateful for having–once again–TPRF at our side to respond to this humanitarian catastrophe. Thanks to the precious support of TPRF and its donors, CESVI is going to provide life-saving aid to thousands of vulnerable people by distributing tents, blankets and warm clothes," says Roberto Vignola, CESVI Deputy General Manager. "Moreover, CESVI is going to support the people in need of psychosocial assistance due to the heavy trauma caused by the earthquake, the loss of their loved ones and days and nights spent under the rubble."
TPRF also gave a grant of $125,000 to World Central Kitchen (WCK) to provide nourishing meals to those in need. The aid helped WCK mount the quickest response the world-renowned organization has ever scaled, already providing over 7.5 million meals to hungry people across the region.
In addition, TPRF gave a grant of $125,000 to Doctors Without Borders/Médecins Sans Frontières (MSF) to provide emergency medical care, hygiene kits, medicines and other supplies and services.
"It's difficult to comprehend the devastation these earthquakes have caused, and our hearts go out to all those who are suffering from this catastrophe," says Linda Pascotto, TPRF Board Chair. "Thanks to all of you who donated to TPRF to support this humanitarian effort. You are giving people a helping hand when they need it the most."
Since Prem Rawat founded TPRF in 2001, it has given over 175 grants totaling over $6 million to a variety of partner NGOs in 44 countries to help victims of natural disasters, COVID-19, war and other traumas.
The humanitarian grants are just one of the ways that TPRF fulfills its mission of advancing dignity, peace and prosperity across the globe.
TPRF's Food for People program has provided over 5.2 million nutritious meals, clean water and educational opportunities to underserved children and elderly adults in India, Nepal and Ghana.
TPRF also offers the Peace Education Program, an innovative series of video-based workshops that have helped over 300,000 people in over 80 countries discover their own inner strength, hope and peace.
Registered as a U.S.-based 501(c)(3) tax-exempt nonprofit organization, TPRF has earned the highest rankings from independent evaluator Charity Navigator for financial responsibility, transparency and accountability.