The Prem Rawat Foundation (TPRF) recently participated in a roundtable with humanitarian leaders to raise awareness about the needs of refugees and to offer the Peace Education Program as an effective tool to help them get back on their feet and reintegrate into society.
The number of people forced to flee violence and natural disasters across the world recently topped 100 million, marking a grim milestone and highlighting the urgent need to find new solutions to build tolerance and compassion. Held on World Refugee Day, the roundtable meeting included Peace Education Program Director Willow Baker, Marcello Rossoni from the United Nations High Commissioner for Refugees (UNHCR), Dr. Silvia Ficini from InTouch Association, and Lorena D'Ayala Valva and Roberto Vignola from Cesvi. In response to the alarming trends, the group explored practical solutions and "whole society" integration strategies for providing assistance.
The Peace Education Program offers an innovative approach by helping facilitate a journey into the depths of one's own identity, empowering individuals to find tolerance, build trust and diminish conflicts and tensions both within themselves and with others. Key to the methodology is that the program gives participants the opportunity to focus and reflect on their own common humanity and their inner resources such as choice, hope and dignity. 
The workshop series also develops life skills that the World Health Organization has determined are needed to guarantee the dignity of every human being: problem solving, critical thinking, effective communication skills, decision-making, creative thinking, and interpersonal relationship skills.
TPRF is offering the Peace Education Program in complement to other humanitarian aid to address the needs of refugees. For example, TPRF recently gave $400,000 in grants to Cesvi and the World Central Kitchen to help Ukrainian refugees with nutritious meals, water, hygiene kits, medical supplies, sleeping bags, mattresses, tents and other crucial supplies.
Cesvi hosted the World Refugee Day meeting in Bergamo, Italy, and it was covered by the Italian news agency Alanews. Alanews repeatedly broadcast a video report about the effort at dozens of Italian transportation hubs for weeks, including airports, subways and train stations, reaching hundreds of thousands of people.  
TPRF's humanitarian work was also highlighted on Peace Channel's World Refugee Webcast, which featured videos about the Peace Education Program and other uplifting initiatives from a range of leaders and organizations across the globe. You can watch a replay of the broadcast here.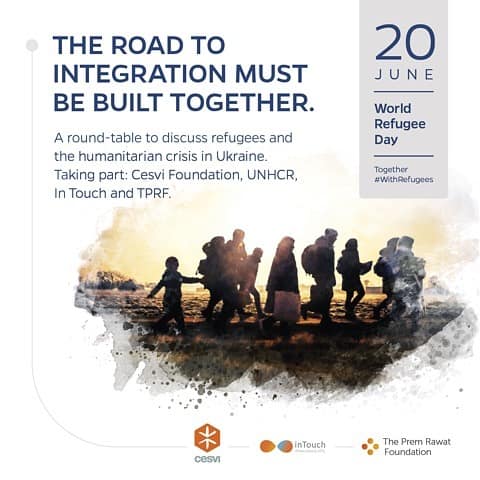 The TPRF team is excited to keep working with Cesvi, UNHCR, InTouch and other like-minded organizations to help refugees and other disadvantaged people.
"It was an honor to represent The Prem Rawat Foundation at this World Refugee Day roundtable and to meet with such dedicated people who are providing assistance and opportunities to people who have had to flee their homes," says Willow Baker. "We are now exploring possibilities for including the Peace Education Program in the UNHCR's whole society approach to integration of refugees in Italy and for expanding our collaboration with Cesvi's programs."
You can download a new brochure to learn more about TPRF's approach to helping refugees.