In 2021 The Prem Rawat Foundation (TPRF) celebrated 20 years of remarkable results empowering dignity, peace and prosperity by addressing the fundamental needs of people across the globe.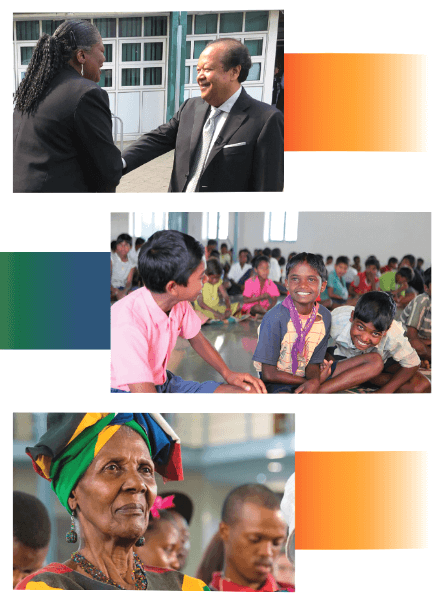 Started by Prem Rawat in 2001 to help ensure that people have the opportunity to live in peace, in the last 20 years TPRF has become a profound resource for people in over 70 countries.
"I created The Prem Rawat Foundation in the hope that it would play a part in furthering the understanding that personal peace is the foundation for world peace, and to help people live in dignity, peace and prosperity — the basics of what makes humanity, humanity," says Prem Rawat. "If people are hungry, we can give them food. If people are thirsty, we can give them water. If they are sick, we can help them return to health. If people are looking for peace, the Peace Education Program can help them begin the journey of discovering it."
Fueled by passionate volunteers and donors across the world who are inspired by Prem Rawat's vision, TPRF fulfills its mission through a number of signature humanitarian initiatives.
TPRF's Peace Education Program, an innovative series of workshops that help participants discover their own inner strength and personal peace, has had the greatest outreach. The program has benefitted more than 200,000 people in over 70 countries and has proven effective with diverse populations in a variety of settings including community centers, youth groups, schools, healthcare programs, homeless shelters, drug rehabilitation facilities, correctional facilities and many more.
A growing body of studies and independent reports show profound impacts for participants including empowerment to make better choices, more hopeful outlooks, enhanced self-reliance and enriched appreciation for life.
TPRF offers the workshop materials in over 30 languages, and volunteers have donated more than 240,000 hours facilitating the program, contributing over $3.2 million in pro bono work.
Complementing the Peace Education Program, TPRF has sponsored more than 45 live events and forums with Prem Rawat and other leaders to build awareness that personal peace is the strongest foundation for world peace, including at prominent institutions such as the United Nations and the European Parliament.
The amount of humanitarian pro bono work that TPRF volunteers have contributed doubles to over $6.4 million when including other initiatives.
TPRF's Food for People (FFP) program takes an innovative approach to helping people emerge from poverty by providing nutritious meals, clean water and educational opportunities to disadvantaged communities in India, Nepal and Ghana. So far FFP has served more than 4.1 million nutritious meals and the results have been improved health, school enrollment and achievement, and economic outlook.
In addition, TPRF has given over 160 grants totaling over $5 million to a variety of partner organizations in 40 countries to help victims of natural disasters and other challenges, providing food, water, medical care and other aid.
Registered as a U.S.-based 501(c)(3) tax-exempt nonprofit organization, TPRF has earned the highest rankings from independent evaluators Guidestar and Charity Navigator for transparency, fiscal responsibility, results and management.
TPRF recently marked its 20th anniversary with a virtual conference attended by thousands of people in 72 countries. In his keynote address, Prem Rawat thanked everyone who has contributed to the Foundation's work so far, as well as those who are acting to ensure even more success going forward.
"Many lives have been touched because of the efforts of the people who are working through this Foundation, an incredible expression around the world. … Thank you very much to all of the participants," he said. "TPRF is a vehicle to say, 'Look, a little bit of light in darkness would be really wonderful.' To bring hope to those people who have lost all hope, that's a powerful thing."