The Prem Rawat Foundation (TPRF) aided victims of Hurricane Dorian in the Bahamas with a contribution of $100,000 for crucial food, water, medicine and medical care.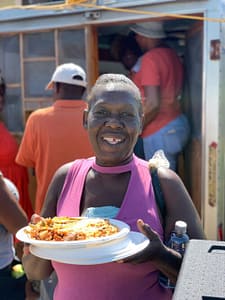 With sustained winds of 185 mph, Dorian was the strongest storm in history to strike the small island nation, killing more than 60 people and leaving over 70,000 people homeless. TPRF relief has reached thousands of survivors since the storm hit on August 24, providing nutritious meals, clean water, emergency medicine and ongoing mental health clinics.
The aid was primarily delivered through grants to Americares and World Central Kitchen, partner charities who were mobilized on the ground to quickly provide supplies and services to those who needed them most.
"We are grateful for the generosity of The Prem Rawat Foundation for helping Americares respond to Hurricane Dorian," says Michael J. Nyenhuis, Americares President and CEO. "Thank you for your commitment to helping respond quickly, and effectively, with an eye toward long-term health and wellness."
The TPRF grants were made possible by an outpouring of compassionate support from donors across the globe. "My heartfelt thanks to all of you who contributed to help people cope with this tragedy," says Linda Pascotto, TPRF Board Chair. "Your support empowers The Prem Rawat Foundation to provide essential aid to people during their darkest hours."
Since Prem Rawat founded TPRF in 2001, the charity has awarded hundreds of grants to partner organizations in 40 countries to fund a wide variety of humanitarian initiatives, from disaster relief and water infrastructure to IT labs for students.
The Prem Rawat Foundation also offers its signature Peace Education and Food for People programs to help fulfill its mission of addressing the fundamental human needs of food, water and peace so that people can live with dignity, peace and prosperity.