The Foundation's support for the Solidarity Kitchen School program is helping refugees and vulnerable Brazilians cope during the COVID-19 pandemic.
The Prem Rawat Foundation (TPRF) is supporting the Solidarity Kitchen School project to feed and provide job training opportunities to disadvantaged people who are struggling during the COVID-19 pandemic in São Paulo, Brazil.
Spearheaded by Bibli-ASPA, a local nonprofit organization, the project delivers 1,500-2,000 daily meals to refugees and vulnerable Brazilians, many of whom are homeless. TPRF has given Bibli-ASPA a $15,000 grant to continue the crucial daily meal service, as well as to help build a new kitchen facility. The kitchen is needed to provide culinary job training as disadvantaged clients prepare the daily meals for delivery.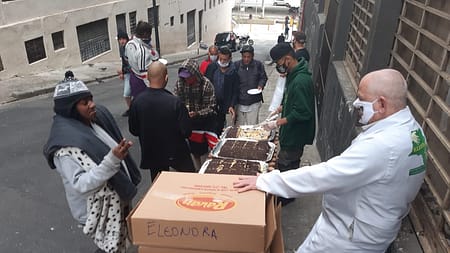 "We thank very much The Prem Rawat Foundation for its support, which has been helping us to be able to feed more refugees and also vulnerable Brazilians. The pandemic has worsened the situation of poor people in Brazil, and we intend to continue fighting hunger and social inequality in our country. We hope to strengthen our partnership with TPRF," say Stela Oliveira, vice president of Bibli-ASPA, and Paulo Elias Farah, president of Bibli-ASPA.
The grant is just one of the many ways TPRF is helping people around the world cope with the pandemic. So far the Foundation has granted over $300,000 to a variety of international partners to provide food, medical care, and other critical supplies and services to those most in need.
TPRF has also adjusted its signature Food for People and Peace Education programs to better serve people during the difficult times.
Food for People normally provides hundreds of thousands of nutritious meals to disadvantaged children each year in India, Nepal and Ghana. To help stem the spread of the virus, most group activities have been paused, and the focus has been on providing specialized food deliveries to those most in need, as well as water and masks.
The Peace Education Program is an innovative series of video-based workshops that help people discover their own inner strength, hope and peace. The program is being appreciated now more than ever, and the customarily in-person workshops are increasingly being offered virtually. In keeping with Founder Prem Rawat's vision, TPRF has always viewed peace as a fundamental human need on par with food and water.
Learn more about all of The Prem Rawat Foundation's initiatives to address fundamental human needs and help people during the pandemic here.