On September 30, 2014, 500 young Malaysian Scouts who had embraced the international scouting goal of being "Messengers of Peace" listened in rapt attention to Prem Rawat speak of what peace for this world might take and what it might mean.
Assuring them that peace is not being a vegetable, Prem said, "Peace is when you are whole, when you are complete. Peace is when you have truly accomplished the basic traits of being human. Watch a short video of Prem Rawat's speech.
"Who are you? Who are we?" he queried. Explaining that 99% of a human being is composed of elements such as oxygen, hydrogen, carbon, calcium, nitrogen, and phosphorus, he asked, "Would you really give a little bit of calcium a name?" The consensus was clearly not. "But these same elements come together," Prem continued, "and here we are, a living human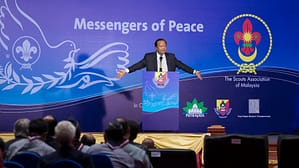 being. So, what is it to be human?"
"What you see with your eyes is not what makes a human a human. What makes a human a human is who they are." And who they are, he explained, is defined by the choices that that bundle of elements makes while it is alive. "If it decides to love," he said, "if it decides to be in peace, if it decides to care, to be kind, to be generous, it becomes a human being. If it decides not to be that, then it is simply a burden on the face of this earth."
Concluding his slightly over twenty-minute talk to the young and quite eager "Messengers of Peace," he said, "Today, you have to understand true wealth. Your true wealth is peace, understanding, clarity. It's your strength. And if you have that in your life, you truly have everything. Peace does not begin out there. Peace begins with you. Always has, and always will."
At the end of the event, Prem and Tan Sri Dr. Hj. Shafie Mohd Salleh, Head Scout of Malaysia on behalf of the Scouts Association of Malaysia, signed a Pledge to Peace, agreeing to work together in furthering peace in this world.