It's a hot, sunny day outside an elementary school in Malibu, California. A bunch of children are in the shadow of the building, quickly moving around a table. Excited voices shout, "Watermelon! Tangerine! Banana! The healthiest on the market!" A clean white tablecloth is draped over the picnic table with a big hand-painted and multicolored sign proclaiming, "POPSICLES $1."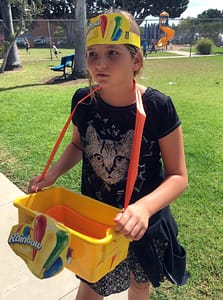 Like every week, this is the Friday afternoon popsicle sale at Juan Cabrillo Elementary, with the 10 shiny fifth-graders who make up the Peace Club. One girl sits at the center of the bench with the money box. She is the treasurer, in charge of handing change to the children, teachers, and parents who surround them. Occasionally, one child reaches into the cooler, pushes aside the ice, and pulls out the correct flavor.
The Peace Club is a group of children who raise money for projects to help others. "We do not just meet and talk about peace," says Zoe Langley, the teacher who organizes the Peace Club. "We do things that are practical to help with problems like homelessness, hunger, sickness, and care for veterans. More than the problems, this club is focused on solutions. We want to help people who are less fortunate than ourselves."
"These are very bright children," Zoe continues. "They are very involved in different ways to help society and the world. Every year we have a different group of fifth-graders. All these different children come, their parents hear about it, and we promote it with different videos and talks. The whole school gets involved."
Zoe is clear that selling popsicles has a greater purpose than just fundraising. "We want to empower children and give them hope and courage because they are growing up in a chaotic world now. It shows them a way that they can support something good and make a difference. I first had the idea for a Peace Club four years ago on Peace Day. I remember watching an interview with Prem Rawat [Founder of The Prem Rawat Foundation (TPRF)] about peace, and he said that 'we can all be ambassadors of peace.' I thought: that is really true! Children, adults, and every person can be an Ambassador of Peace."
Zoe wanted the Peace Club to be a learning tool to encourage empathy and compassion. She's been happy to find that the children who join are always enthusiastic and bursting with ideas.
"We wanted to help with global hunger, so we chose TPRF because of the Food for People (FFP) program. They provide the farming area, organize the kitchen, get kitchen equipment, show how to keep it clean, and provide meals—so it is sustainable. There are other non-profit programs, but often people get a box of
rice or a bag of flour, and that's it. The help from FFP can be sustained and that is what the children are interested in. We show a short video clip of the farm, kitchen, and people helping at the facility, and they love that idea. So the students and faculty see where the money is going."
Members of the Peace Club decide who will receive the funds, and let everyone know why they are fundraising. On May 10 Zoe put a check in the mail to FFP with the $700 the club has raised so this year.
In addition to FFP, they sent a check to a veterans group in Los Angeles, helped cancer research at Saint Jude's Children's Hospital, cooked apple pies and corn bread for the homeless, purchased fruit trees for the school, assisted children who could not afford school supplies, helped support the school's field trip and sleep-over camp, and raised funds to build a school in an Ethiopian village.
"It gives us a great feeling to help others!" says Zoe. "Our goal for the future is to help more people."