After successfully facilitating the Peace Education Program (PEP) seven times in the small Balkan country of Montenegro, volunteers are breaking for the summer before starting the workshops again in October. In response to popular demand and the enthusiastic invitation of two host organizations, there are already three more PEPs scheduled into 2016.
Beginning in October, the Centre for Civic Education, which previously hosted PEPs for the general public, and The Pedagogical Centre, which previously hosted PEPs for educators, have both agreed to combine their audiences into one large PEP at the Centre for Civic Education.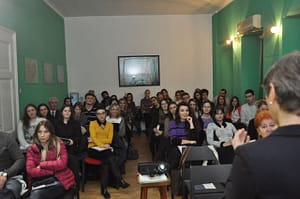 Promotion for PEP on the NGO websites, participant referrals, as well as 13 television appearances by PEP manager and facilitator Caroline Jovicevic on the country's three main TV channels have helped generate consistent registration for every PEP of between 60 and 70 applicants for the 50 available places. PEP is now featured in the catalogue of accredited, elective courses offered to educators all over Montenegro. This greatly increases its promotional reach.
This July, The Centre for Civic Education presented Caroline and her husband, Janko, an Award of Appreciation for the work they have done to bring PEP to people in Montenegro. This was a welcome acknowledgement for this adventurous couple, who live in a very isolated home on Skadar Lake that has no access to roads. To facilitate every PEP, they walk 15 minutes up a rocky goats' trail to their garage, where they change clothes and then drive 15 miles into the capital city of Podgorica. After each PEP class, they change back into their hiking boots and wind their way back down the trail in the dark to their house. "Yes, it's an effort to do this, but so worth it," says Janko. Both Janko and Caroline are longtime philanthropists, environmental advocates, and supporters of TPRF.
On average, a PEP in Montenegro finishes with 38 people receiving a certificate for participating in a minimum of 8 workshops. Many more attend fewer workshops, and also enjoy their experience. One participant recently enthused, "The workshops are very interesting, and I am so glad I took part in them. They helped me find my inner peace and the answers to the questions I asked. I am immensely grateful for that. This is high quality material, and I can say that because I have attended many seminars and courses. This workshop is certainly one of the best I have ever attended."
What's the plan going forward? "More of the same but with more quality given by the PEP team every single time. Striving to match our presentation of the PEP material to the quality of the speaker and the relevance and importance of the message is our ongoing challenge, responsibility, and delight," answers Caroline. PEP has certainly taken firm root in this scenically beautiful country of just 621,000 people. "Onward and upward is the only way to go," says Caroline. "We look forward to watching this robust Montenegrin seedling grow even bigger and stronger in the next year."