Enthusiasm for the Peace Education Program (PEP) is continuing to grow in the city of Las Palmas de Gran Canaria, the capital of the Spanish island of Gran Canaria. An initiative of The Prem Rawat Foundation (TPRF), the program helps participants discover innate tools for living, such as inner strength, choice, and hope.
PEP is being offered on the island at a prison and a senior center, and several others are in the works. Inspired by the positive changes they were seeing in participants, local leaders also recently presented PEP to students and teachers in the city's Healthy Habits and Responsible Consumption Municipal Program, which aims to encourage young people to think for themselves, deal with conflicts in constructive ways, and improve self-esteem. Rosalía Fernández, Judge of the Regional Court of Las Palmas, and a member of European Association of Judges for Mediation (GEMME), was among the speakers.
Judge Fernández was so impressed with PEP that she decided to present it to her GEMME colleagues from around the world at the association's first International Conference on Mediation, held May 14—15 at the ExpoMeloneras exhibition hall. The conference slogan was "Peace is the Way," and the presentation by Fernández included an introduction to PEP as well as a viewing of the video "Peace Within," which features TPRF founder Prem Rawat talking about personal peace.
GEMME is dedicated to promoting mediatory justice and alternative methods of resolving conflicts. Several attendees expressed delight in response to the video and PEP. Pino Palomino, co-organizer of the event, said he intended to show TPRF's video "Peace on the Inside" at another GEMME conference in the future. The video documents how PEP is helping inmates at the Dominguez State Jail in Texas (USA) discover a sense of inner strength and peace. Another GEMME member at the conference said she wants to present PEP to audiences in South America when she moves there.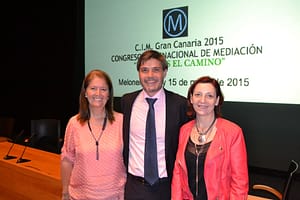 The conference audience also included the University's Vice Chancellor of Degrees, Rafael Molina, as well as Supreme Court Justice Lourdes Arastey Sahún.
A few days later, Judge Fernández again showed her support by inviting Saray Bolaños, PEP coordinator in Las Palmas, and Victor Carvajal, mediator of GEMME, to appear on the Radio Canarias program, "Threads and Popcorn," hosted by Kiko Barroso. During the 20-minute segment, they discussed their work, and both agreed on the importance of peace.
"This route down the path of peace and dialogue makes us think and try to resolve conflicts in a manner different from the traditional one," said Mr. Carvajal.
The host of the radio p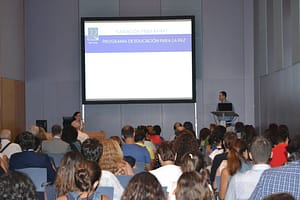 rogram posed the following question to Ms. Bolaños: "How do the prisoners respond to the Peace Education Program?"
"To be truthful, very well," she replied. "Every Wednesday they are there, waiting for us to arrive, and it is very nice to listen to them say how their families, when they come to visit them, ask them: 'Hey, what has happened to you? You are different, better.' They are quieter and more relaxed. The lessons they are learning are being noticed by their relatives. This will help them while they are in prison and once they leave. Regardless of the circumstances that led them there, they have the ability to feel peace."