The Peace Education Program (PEP) received a warm welcome at the recent International Corrections and Prisons Association (ICPA) conference in Montreal, Canada, which brought together professionals from 70 countries with the aim of improving practices to enhance public safety. PEP won praise because of evidence that it inspires inmates to make better choices in life, both while behind bars and after they're released.
In his conference presentation, Terrence Mathews, a counselor at Metro West Detention Center in Miami, Florida, told his international colleagues that he's been impressed by the program's results.
"I like to call the PEP visually transformative. I say this because I have seen the changes in the attendees," he said. "Some who were known to have coping and behavioral challenges have made 180-degree turnarounds. The participants all leave better than before."
Like other initiatives that were presented at the ICPA conference, PEP isn't only for inmates. The program has also been offered to corrections and law enforcement professionals across the world, helping them stay calmer and more focused in their stressful working conditions.
"The impact of this program goes beyond the inmates," Terrance said. "I myself have grown from it, and I have seen the positive effect it has had on the guards who accompany the participants."
The Prem Rawat Foundation (TPRF) representatives personally met hundreds of people at the conference, handing out more than 400 copies of written and video materials about PEP. Many attendees were already familiar with the program, having seen it in action back home where they work, or having read about it in this summer's ICPA industry newsletter.
The award-winning documentary film, "Inside Peace," was also shown at the conference, eliciting tears from a group of delegates for how it powerfully relayed the impact that peace education made on a group of Texas inmates.
PEP has already been translated to 37 languages and offered in 84 countries, but TPRF volunteers are expecting that more workshops will come out of the conference. They are now busy following up with all of the new friends they made everywhere from Canada and the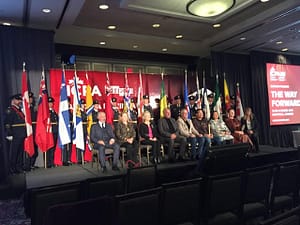 U.S. to Uganda, Kenya, Japan, Australia, Kurdistan, and beyond.
"The highlight of the conference for me was being part of such a wonderful team focused on sharing the good news of PEP. The global nature of volunteering with the program continues to delight me," said TPRF Volunteer Annelies Bertsch. "The common thread among the delegates was an interest and passion for helping make this world a better place for all people."
Michel Klamph, another volunteer with the conference outreach effort, noted that it took a lot of good teamwork. "I would like to thank all of the volunteers who made our presence at this conference possible. That includes those who designed the exhibit and the advertisements, as well as all of the generous donors who fund TPRF's work."