Mary Dalgleish is a volunteer with the Peace Education Program (PEP) in the UK. In this blog she writes about her experience presenting the program at the recent International Corrections and Prison's Association conference in London.
Founded in 1998, the mission of the International Corrections and Prison's Association (ICPA) is to promote and share ethical and effective correctional practices to enhance public safety and healthier communities worldwide. This year the ICPA selected London for its annual conference, entitled "Innovation in Rehabilitation: Building Better Futures." The conference was hosted by Her Majesty's Prison and Probation Service, October 22-27, 2017.
The ICPA conference was first brought to my attention in May by the UK charity Peace Partners, which offered to sponsor a PEP presentation there. PEP was implemented at a London prison in May 2015 and has been running continuously at the facility twice a week since then. It has also been successfully implemented in several other UK prisons.
I spoke to PEP volunteer Tony McLean, who has been instrumental in promoting PEP to UK prisons, and he said that he would be happy to collaborate with me on this, should our proposal be accepted. I then set about writing an abstract titled "Innovation in Rehabilitation: Building Better Futures with Personal Peace Education," which I submitted to the ICPA's selection team in June. The proposal
was accepted as part of the agenda for October 23rd and I then started working on the presentation, with the help and advice of other PEP volunteers and The Prem Rawat Foundation (TPRF) PEP team. Tony and I got together to rehearse and prepare several times before the event.
We arrived early on the 23rd and attended the opening ceremony and a couple of the morning sessions. The ICPA and ITN TV Productions UK launched a news program called "Prisons: The Last Resort," which explores the challenges caused by growth in prison populations and the solutions that are being implemented around the world. The trailer and film can be viewed here. Perhaps PEP can be featured in a future episode!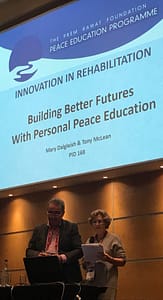 We were attending the conference as "one-day delegates" and did not have a booth or a table in the marketplace area, so I asked one of the organizers if we could display some PEP materials. She kindly offered us free use of a display table and said that we could leave PEP flyers there for the week. Jeff Allen, PEP volunteer and Peace Partners member who also attended the conference, helped with leaflet distribution throughout the day.
At lunchtime Tony and I had our final rehearsal, and although we were a bit nervous because this was our first time presenting PEP at such an event, we were also excited by the prospect. Our session was scheduled alongside two other presentations. We were each allocated 20 minutes followed by a half-hour at the end for general Q & A about the three projects.
Although a bit of a rush, we managed to cover everything in the allocated time. There were lots of other presentations taking place at the same time in various other rooms so we didn't have a full house, but those who came appeared to enjoy the presentation and we got a good round of applause afterwards.
There was particular interest from the Director of Oregon's Department of Corrections, Colette Peters, who said that PEP would be ideal for a wellbeing program she is hoping to implement for prison staff. I had chatted with her earlier during morning coffee time and told her about our presentation. She said she enjoyed it very much and would be in touch with TPRF for more information soon.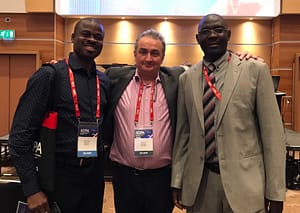 Two lovely ladies from Armenia (Gayne Hovakimyan, Deputy Director of Rehabilitation, and Shushanik Ghukasyan, Deputy Head of Anti-Corruption and Penitentiary Policy Development Department) were very impressed and asked if we would come to Armenia to help get PEP going there! We exchanged contact details and gave them flyers with all of the necessary information about PEP.
Delegates from correctional departments in Namibia and Nigeria were also very interested and exchanged contact details with Tony. We gave them some sample PEP materials (a few workbooks and booklets) and briefly explained how PEP works. Both would like to use PEP in their respective countries and will be looking into this soon.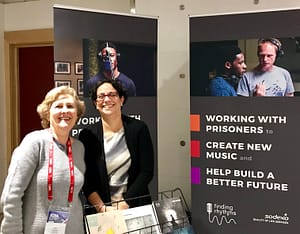 Although we were only there for one day, we felt it was a great success and thoroughly enjoyed being part of this great conference. We took the opportunity to network and share flyers with other organizations working in prisons such as Finding Rhythms, a charity that uses music to help offenders rehabilitate.
As most of the attendees were involved in commercial projects, and their attendance was funded by their respective organizations, I asked one of the ICPA staff if they would consider a reduced fee in the future for volunteers who implement projects that are offered free of charge to prisons, and she promised to consider this. ICPA 2018 will be held in Montreal, Canada, October 21-26, so perhaps TPRF can plan to be there as it attracts a large global audience and is a great opportunity to showcase PEP!