Tomás del Arco (pictured on the left) is a volunteer for The Prem Rawat Foundation (TPRF) who helps oversee the Peace Education Program (PEP) in Spain. He was one of the volunteers who recently represented PEP at the First World Forum on Urban Violence and Education for Coexistence and Peace in Madrid.
Under the slogan, "Madrid, Capital of Peace," the city hosted the forum from April 19-21 in a famous cultural venue called La N@ve.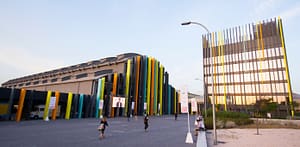 The Forum was conceived as a meeting point for world leaders, organizations, academics, NGOs and others to reflect on the causes of urban violence and to promote solutions.
The idea was born at a meeting of the Madrid and the Paris Mayors, Manuela Carmena and Anne Hidalgo, soon after the terrible attacks that occurred last November in the French capital.
PEP was one of 90 self-managed workshop programs that organizers chose to include at the Forum out of 350 proposals.
It was an honor for the PEP team to be invited to the event, which was inaugurated by King Felipe VI of Spain. It was three days of ceaseless activity consisting of information sessions, round tables, workshops, concerts, speeches, a mini-marathon for children, and more. The Forum was attended by many notable figures and political representatives from countries such as Belgium, Brazil, Canada, USA, Guatemala, Italy, Morocco, and Thailand amongst others.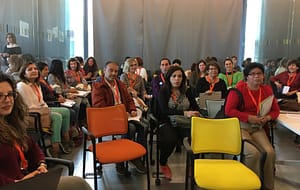 30 leaders attended the presentation about PEP. Chris Fisher, a PEP volunteer in Madrid, explained how the program is helping people live more peaceful lives in Spain and across the world. Afterwards, some PEP videos were shown and a Q&A followed with an open discussion session. It was a dynamic meeting and some people expressed a great interest in learning more about how to find peace in a world full of chaos and violence.
The workshop ended with warm applause and gratefulness from the attendees, as one can see in the photos. The forum was a great opportunity to establish relationships with people at other similar organizations who advocate for peace.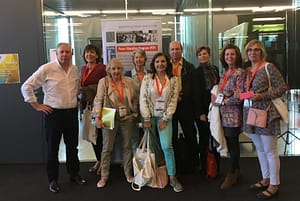 Alberto Guerrero and Elena López, members of the managing team of the Spanish Federation of Clubs and Centres UNESCO (FECU), finalized an agreement with the Peace Education Program for future cooperation in Spain. Isber Sabrine, president of Heritage for Peace showed an interest in the Peace Education Program as a tool to help restore dignity to Syrian children and youngsters and to teach them human values. Two teachers also asked how they could start the PEP at their institutes to benefit young people who are at risk of social exclusion.
We are in the process of following up with several of the people we met about offering PEP at their organizations. PEP is so accessible and easily available to any entity or organization who wishes to implement it.
It gave me a sense of hope to be surrounded by so many leaders who are trying to find solutions to violence. I feel that peace is truly a possibility for all human beings. The great potential of PEP is that it can help build a foundation for the peaceful coexistence of diverse people within society.
Last two photos © Casa de S.M. el Rey