Sherry Weinstein has been TPRF's Manager of the Peace Education Program for the past two years. In this two-part report, Sherry brings us up to date on the dramatic expansion of the program during 2012 and the TPRF plan for continued growth in 2013.
What do some inmates in Zonderwater, South Africa; a small community in Subotica, Serbia; and senior citizens in Sun City, Arizona all have in common? They all are students of the Peace Education Program (PEP), a 10-week multimedia workshop based on discovering inner resources such as joy, peace, and hope.
As the PEP Manager, I have witnessed the inception and evolution of PEP from its beginning as a prison-based program to one that is being received enthusiastically in all kinds of organizations across the globe.
The Peace Education Program (PEP) has expanded rapidly over the past year.
At the end of 2011, more than 55 PEP workshops were offered in 10 prisons to 1,200 participants with the help of 100 volunteers. By the end of 2012, there were more than 125 workshops with 8,549 inmates attending in 33 prisons in 12 countries, with hundreds of volunteers involved in setting up the workshops.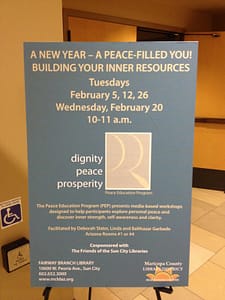 PEP is gaining recognition from various organizations that are seeing the impact in the participants' lives. For example, in the Dominquez State Jail in San Antonio, Texas, the former head of Correctional Officers said, "This program has been so effective. There have been no incidents of violence among the participants and very few returning to this prison."
Catherine Gavigan taught a pilot PEP class at an international business college in Brisbane, Australia. One of her students wrote, "I never knew we had inner resources."
One of the parolees in the Oxnard, California PEP program asked, "Can I continue to come after I have finished all the sessions? I want to share with other parolees what I have enjoyed discovering and experiencing."
In a recent PEP for staff at the Evergreen Hospice in Washington, one of the participants commented, "It gave me a lot of hope hearing Prem Rawat's words that peace is possible."
TPRF Founder, Prem Rawat, visited three prisons last year: Dominguez State Jail in San Antonio, Texas; Ezeiza Women's Prison, unit 31, in Buenos Aires, Argentina; and Zonderwater prison in South Africa.
Comments from inmates at Zonderwater prison about PEP:
"I wish that Peace Education could reach the ends of the world."
"I would like to thank each and every person who made it possible for me to know about peace. It really changes my life a lot, and I wish that it can change other people's lives, too."