Jyoti Singh is a Human Resources professional with over 15 years of experience managing a wide spectrum of HR functions, projects, and programs. Currently based in Bangalore, India, she is a Peace Education Program (PEP) volunteer, facilitating and coordinating PEP activities in Southern India. She also provides support to volunteers across India interested in starting PEPs in their regions.
It has been very gratifying to see so many people impacted positively by the PEP in India. Interest in the program continues to grow, and I recently conducted a workshop in Moradabad, near the capital of New Delhi, for more than 100 people who want to facilitate the program in new areas throughout the country. They are now in the process of meeting with leaders at different organizations who are interested in offering it.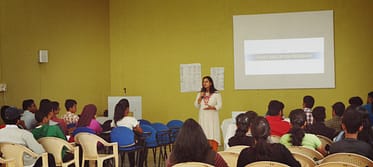 I have had a lot of success gaining permission to offer the PEP at a wide variety of organizations, where it has been warmly welcomed by people from all walks of life. I recently offered the workshops at several locations in Bangalore, including the Container Corporation of India (CONCOR), GEMS Business School, and the Karnataka Forest Department. CONCOR and the Karnataka Forest Department had officers participating; GEMS had students participating.
As a facilitator, I always find it very exciting that, even though the PEP materials are the same for every venue, no class is ever the same. Each one is so unique that, wherever I go, I feel as though I am facilitating a PEP session for the first time.
Mr. Rajat G., the assistant manager and PEP coordinator at CONCOR, a major national business involved in freight and storage, shared great feedback about the program. "The PEP is unique in many ways. It helps people think about themselves. We are keen to know others, but knowing ourselves never crosses our mind easily. There are many programs that we have conducted in our office, but the PEP is different and valuable," he said.
The mission of GEMS Business School, a renowned educational institution, is to "ignite excellence" and cultivate leadership skills. Mr. Nehruji, head of the Department of Business Administration, approved the PEP curriculum because he saw value in its ability to remind students of their inherent strengths.
During the reflection periods, several of the young adults expressed that they often feel so much pressure to succeed that they forget to appreciate the beauty of life. As the workshops progressed, some of them said that Prem Rawat was helping remind them that, in spite of all of the pressures and stresses that they face, they can still feel thankful to be alive.
I can certainly relate to that feeling. Prem Rawat's messages in the workshop videos also help remind me to appreciate the preciousness of life. Many thanks to him for making these workshops available.