Members of the PEP team from left to right: Carroll Klein, Donna Peskin, Chris Taney.
Last year the Peace Education Program (PEP) was offered in 249 correctional facilities across the globe, helping inmates harness their own inner resources to live more peaceful lives. The program began in U.S. prisons and is poised for further growth, thanks in part to outreach efforts at a range of regional and national conferences.
Most recently, The Prem Rawat Foundation (TPRF) program made a splash at a conference organized by the Correctional Education Association in Columbia, Maryland, March 28–31. Approximately 175 prison officials and educators from across the U.S. were introduced to the program via a range of creative efforts by the PEP team, which included Sherry Weinstein, Carroll Klein, Donna Peskin, Chris Taney, Clarita Lopez, and Pat Barrett.
TPRF was a main sponsor of the conference, and PEP representatives delivered a keynote presentation, held a breakout introductory session, and staffed a prominent exhibit table. All attendees were given a PEP tote bag with more information about the program. The bags were made of sturdy transparent plastic so they'd meet security protocols when officials brought them back to the correctional facilities where they work.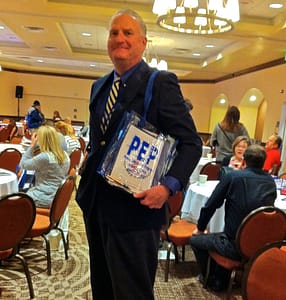 "This was my third year of attending correctional conferences, and this time it was very special. We had a very high profile," says Sherry, PEP Development Manager. "It was inspiring to see people everywhere you went walking around with a PEP bag."
The goal was to raise awareness about the program, and PEP representatives say they're happy with the responses they received. Their keynote presentation included a video clip from the program, and Sherry commented, "People kept coming up to me over the next couple days and telling me they really enjoyed the video. So I knew it was a big hit." One of the attendees is interested in offering the PEP as part of an ex-offender reentry program at Goodwill Industries, which would be the first time the successful national charity organization has integrated the PEP into their work. The team also continues to provide support to correctional educators they met at previous conferences, such as one who was introduced to the program last summer and has offered it at a West Virginia prison ever since.
"Hundreds of people hear about it at these conferences. Forming the relationships with prison officials is important," says Carroll, PEP Marketing Specialist. "Programs like this, that are really more for the heart, are missing in jails and prisons. This program helps inmates discover their own inner strengths, one of them being their innate dignity. Many have never even had the idea that they have dignity as a human being. Inmates and prison officials just love it."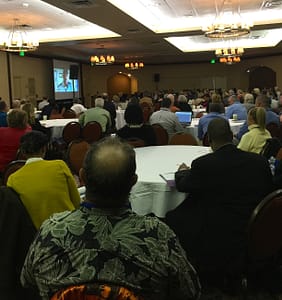 Stephen Steurer, executive director of the Correctional Education Association, has been an enthusiastic supporter and personally introduced several of his colleagues to PEP at the conference. In a letter endorsing the program, he writes that the curriculum is "high quality, simple to understand, and non-denominational" and recommends it as "an effective means to help increase the harmony within individuals and the community."
Meanwhile, the PEP team is also busy planning outreach efforts for their next conferences. They're hoping to have a strong presence at the National Conference on Community and Restorative Justice, held June 1-3 in Fort Lauderdale, Florida, as well as the CEA International Conference in Arlington, Virginia, July 12-15. "Little by little the word is spreading, and one connection leads to another," says Sherry. "I don't feel that we are sitting on the sidelines whispering to people about peace. More and more, we are front and center."