Jyoti Singh is a Human Resources professional with over 15 years of experience managing a wide spectrum of HR functions, projects, and programs. Currently based in Bangalore, India, she is a Peace Education Program (PEP) volunteer, facilitating and coordinating PEP activities in Southern India. She also provides support to volunteers across India interested in starting PEPs in their regions.
Telerad Tech is one of the leading radiology and healthcare technology companies in the world. At its India headquarters, employees face narrow timelines as they work rigorously to develop lifesaving software. But they recently took time out of their intense schedules to participate in the Peace Education Program being offered at the company's Bangalore campus.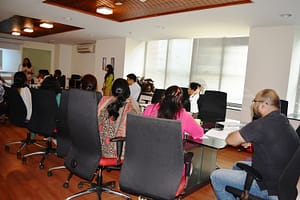 Management invited us to facilitate the program, and many of the 25 participants told us that it had a wonderful impact on them.
We facilitated the course over 10 days, offering a one-hour workshop each day. Employees in attendance included software engineers, human resource managers, administrative staff, and doctors. Each brought valuable perspective and ideas to the classes and expressed them during lively reflection periods. A common refrain we heard was that they found Prem Rawat's advice and stories in the PEP videos to have very practical implications in their lives.
Their focus and willingness to learn made the courses very enjoyable for our team of volunteers as well.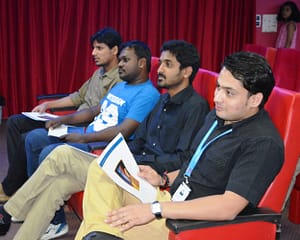 The theme of the second PEP workshop is "Appreciation." It includes a video of Prem telling a story that HR Manager Dhanjay Singh said he found to be "strong and beautiful." He added, "We all have flaws, but Prem's story helps me see that we can turn them into beautiful aspects of our lives."
The fourth workshop focused on "Self-Awareness." Afterwards, one participant said it helped him start to see the commonalities people share rather than the differences. "From this day on, I think I will start introducing myself by simply saying, 'I am a human being,'" he said.
As the classes progressed, we witnessed a passion developing in many of the participants to learn more about themselves and how they can feel peace in their lives. Some requested supplemental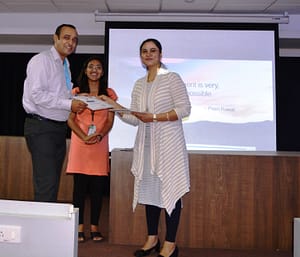 PEP materials such as articles and videos that they could show their colleagues and also take home to share with their families. Some even showed an interest in volunteering to facilitate a PEP at the
company themselves.
The Peace Education Program is a great initiative to help humanity in today's troubled world," said one participant.
I couldn't agree more, and it continues to be a joy for me and the other volunteers to offer the course to people here in India.